Puja and Anushthan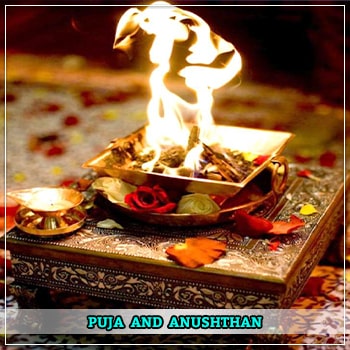 Worship and rituals indicate the revered times of Indian cultures. The ritual here means "abode of God". This meaning is the rise of allegiance to the spiritual and devotion to the divine almighty and motivates people to live a divine life to perform great deeds, such as worshiping and worshiping God and reading the divine scriptures for devotion.
Worship and rituals bring peace and prosperity in people's lives. Furthermore, such rituals effectively pacify the transverse planetary movements of the planets while releasing ominous effects that affect the quality of your lifestyle. Worship and rituals performed by reliable pundits according to established methods of Indian rituals can bring happiness and prosperity in your life. Furthermore, it will generate positive energy and remove negative vibrations from your life.
WebAstrologers.com offers India's one of the ultimate platforms wherefrom you can book Acharya or Pandit Ji for puja and Anushthan and can ritualize devotional yagnas and puja at your residence or office or anywhere of your preference. The goal of offering such an outstanding platform is to make available necessary things which are directly associated with ritualizing puja and Anushthan and create positive energy at your corporate or residential place.
The importance of worship at home or office place has its own spiritual significance. In addition to cultivating a deep range of divine reverence in your heart, you invite a perceptive vat of positive vibes around the place, sanctifying the entire surroundings with spiritual and devotional rituals.
However, having a deep knowledge of Puranic mantras and Vedic observance by Pandit ji is a mandatory obligation for all to perform worship and rituals. It is for this reason that Vedic worship is not declared holy if all the rules and compliance related to the Vedas are properly observed. Only a reliable and learned pundit has the level of expertise.
At WebAstrologers Centres, we make available reliable pandit for puja, Online Puja, online Anushthan, Guruji, Acharya, and everything that can fulfil your puja and Anushthan related requirements.
Both worship and rituals are developed for spiritual and devotional activities to receive the blessings of divine almighty and positive energy in your life. WebAstrologers now provide the facility of online pundit booking or pandit ji for worship at your residential place or business establishment or any place of your choice. Through online pooja services, your pooja will be conducted by our expert and highly experienced astrology pandits in South west Delhi. You do not have to worry about religious procedures and other requirements involved in correct worship. Now you can book Pandit for worship in Delhi in fasting. We undertake the mission of helping WebAstrologers in performing their worship without getting involved in religious processes in this regard. You can also book Puja online without delay. WebAstrologers are counted among trusted online worship websites. The increasing number of customers from all over India and abroad speaks volumes of our credibility.