Puja For Peace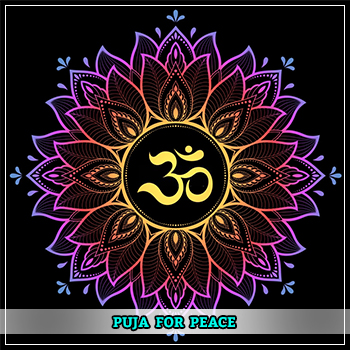 ₹7500
₹5100
Book Now
Important Information about Puja for Peace

Pooja Name: Puja for Peace
Puja Purpose: Blessing of Lord Vishnu
Duration of pooja: 6-8 Hours, Ideal days for worshipping: Auspicious Muhurta as required.
Activities for pooja For Peace: Poorvang Karma, pooja of Lord Vishnu (as per auspicious Muhurta), Ashtottara Namavali Path, Vishnu Sahatranam path, Homam (Havan) and prayer of Lord Vishnu.
Important: We will send Puja Images via email.
Assurance: WebAstrologers assure to you best puja according to Shastra.

What we will do?
Once you have booked the pooja, you will receive a booking confirmation Email.
After Confirmation, we will worship (Ritual) for you according to Muhurata.

Know about pooja for Peace
Do you want to attain Peace of Mind in your career, marriage, or personal life?
Our pooja For Peace of mind is an absolute resort that will put an end to your gripe. Bring forth consistence in your life and attain the positivity. Our Puja for Peace of Mind and Peace in Family can also advantage you in your career, finance, job, health, and matrimony etc.

Importance of Puja for Peace
Attainment of peace of mind through pooja is the best mainstay you can pick for if you want to bring forth consistence in your life. This kind of puja is performed under religious guidelines provided by a pandit. At the time when you start the puja, it must be seen that the time is favorable. Puja for Peace of Mind is performed in order to relieve yourself from the stress or unwanted tensions caused by disadvantageous planets in your kundli. Another pooja for peace of departed soul is dedicated to praying for the peace to the deceased person. Book Puja for Peace by Best Vedic Jyotishi in Delhi.

Activities for Puja for Peace
Purvang Karma (Ganesh Pujan, Matra Pujan, Abhyudaya, Punya Wachan, Kalash Sthapana, Raksha vidhan, Navgrah Puja)
Puja of Lord Vishnu (as per auspicious Muhurta)
Ashtottara Namavali Path, Vishnu Sahatranam path
Homam (Havan)
Prayer of Lord Vishnu and Aarti
Benefits of puja for peace
If your life is devoid of peace and you want to attain it, virtuous pooja is recommended to get peace in your life.
Another advantage of puja for peace is that there is consistency in your surroundings.
Bad effect on the peace of your inlying life destroys peace. Puja gets such ill effect dispelled.
Divine graciousness is attained.
Puja for peace of the departed soul ensures the salvation of the deceased.
To say in brief –
Puja for peace is for your own benefit, considering you attain the benefit of peace in your domestic or professional life. Our Puja and Anushthan Service Such puja has the divine power to pacify your disadvantageous planet, thus giving you peace of mind or peace in your life. As a cautionary measure, you must ensure that puja for peace should always follow proper rituals and procedures. It is to be seen if the puja is carried out under the remark and guidance of acknowledgeable pandit.
Customer Care
If you have any query or need further clarification