Budh Puja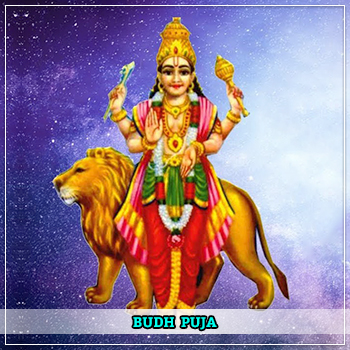 ₹15000
₹11000
Book Now
Essential Information about Budh Pooja
Puja Name: Budh Pooja or Mercury
Puja Purpose: Blessing of Lord Budh or Mercury.
Time of Puja: 10 to 12 Hours with 3 Pandits.
Best days for worshipping: Wednesday.
Activities for Budh Pooja or Mercury: Poorva Janma Karma, Pooja of Lord Budh or Mercury (as per favorable Muhurta), Ashtottara Namavali Path, Budh Stotra path, 9000(Nine Thousand) Chanting of Budh Dev, Homa (Havan) and Prayer of Lord Budh or Mercury.
Important of budh puja: We will send Puja Images via email.
Assurance: WebAstrologers Ensure to you best puja according to shastra, especially for you.
What we will do on budh puja?
Once you have reserved the Puja, you will receive a booking confirmation mail.
After Confirmation, we will worship for you according to Muhurat.

Importance of Sri Budh (Mercury) Puja
If any hurdles caused by malefic Mercury planet in your charts are serious, our Budh Pooja or Mercury Planet Pooja offer solutions for the same. With right Pooja vidhi followed by our qualified Acharyas and Pandits, unerring Budh grah Pooja Benefits in benefit of calmness and affluence in your life are bound to be.
Lord Budh or Mercury is the nearest planet to the Sun in our zodiac system. It is a fast moving planet as similar to sun and is directly connected to the intelligence and memory power. Mercury reveals logical ability, sentience, voice, and overall thinking. The aforenamed criterion are important role in victorious in both studies as well as in any profession. Those having a weak Budh or Mercury in the chart should get this puja performed and they should also try to perform the fast.
Web Astrologers will organize a Budh puja on Wednesday. A team of learned priests, Pandits and Acharyas will perform a special Pooja for the customers as per the procedure of the Shastra. Puja and Anushthan will be performed in a Vedic and authentic way with the use of related Indian Vedic mantras of Lord Mercury or Budh. Stotras and strong prayers will be also chanted during the puja.
Activities for Budh Dev (Mercury Planet) Devotees
1. Purvang Karma (Ganesh Pujan, Matra Pujan, Punya Wachan, Kalash Sthapana, Raksha vidhan, Navgrah Puja)
2. Puja of Lord Budh Dev (as per favorable Muhurta)
3. Ashtottara Namavali Path, Budh Chalisa path
4. 9000 (Nine Thousand) Chanting of Budh Dev
5. Homam (Havan)
6. Lord Budh Prayer and Aarti.
Benefits of Sri Budh Pujan
It is very useful for those having a malefic Mercury in the chart.
It is a powerful remedy to develop your intelligence and wisdom.
It is a great way to help the students in their academics and competitive exams.
Budh(Mercury) puja improves the management and administration skills.
It is also suitable for those who belong to the field of communication.
It is a very helpful remedy for those wishing to get rid of obesity.
Customer Care
If you have any query or need further clarification