New Year Puja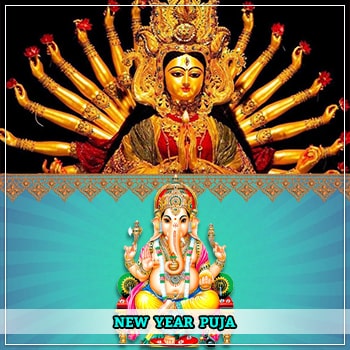 ₹7500
₹5100
Book Now
Important Information About 2021 New Year Puja
Puja Name: 2021 New Year Puja
Puja Purpose: Blessing of God Ganesha and Ma Durga.
Time of Puja: 6 to 8 Hours
Ideal days for worshipping: New Year Day (January 1st).
Activities for New Year Puja: Poorva Karma, pooja of Maa Durga and God Ganesh (as per auspicious Muhurta), Ashtottara Namavali Path, Homam (Havan), God Ganesh Ji and Goddess Durga Prayer.
Important: We will send Puja Images via email.
Assurance: web Astrologers assure you best pooja according to Shastra.
What will we do?
Once you have booked the pooja, you will receive a booking confirmation Email.
After Confirmation, we will worship (Ritual) for you according to Muhurta.
Know About Puja for New Year 2021
No unprofitable factor caused by baneful planetary transit in your horoscope can be unsuccessful in your career, business or any feature of your life with our service of New Year puja 2021. It correctly relates to helping you achieve success in your dreams field of activity. Choose our New Year pooja and meet with ambition in your life in a realistic way.

The main thing to note here is that the true benefit of New Year Puja 2021 for peace, growth of affluence, and happiness can only be achieved if it is performed under the knowledge and guidance of Scholar Pandit who knows a great deal of ritual methods accurately.

Importance of Puja for New Year 2021
With New Year witnessing more challenging situations in jobs, finance, relationships and others, for an individual to maintain Peace of Mind will be quite a brave task to handle. Pooja for New Year 2021 has its importance due to the fact that it enables you to attain a great psychic strength. It enables you to wisely channelize your energy force thus giving you a controlled psychic attitude toward your situations. As a result, you will be capable of bringing forth peace and harmonious balance in your life.

The importance of pooja for New Year 2021 is also more because it energizes your spiritual and intelligent conscience. This, in turn, helps you handle tense situations in your life positively. This specialty is also very important for business people, enabling them to handle odd situations in business, smartly.

Pooja for New Year 2021 is also important to bring comfort to someone passed away. In addition, it helps you get rid of bad Planetary Transits effects, so that success or affluence starts to happen in your life. Book New Year Puja By our pooja and Anushthan Services by Reliable and educated Pandits.

Activities for New Year Puja
Poorva Karma (Ganesh Pujan, Matra Pujan, Abhyudaya, Punya wachan, Kalash Sthapna, Raksha vidhan, Navgrah Puja)
Pooja of Maa Durga and God Ganesh (as per auspicious Muhurta)
Ashtottara Namavali Path
Homam (Havan)
God Ganpati Ji and Goddess Durga Prayer and Aarti
Benefits of Puja for New Year 2021
Helps you get peace of mind.
It is conducted to bring peace to a deceased soul in your family for its deliverance.
Improves one's spiritual and intellectual conscience.
Brings forth mental peace.
Induces harmonious feeling around your surroundings of your workplace or living space.
Removes bad effects caused by planetary doshas, thus restoring peace and harmony in your familial life.
Customer Care
If you have any query or need further clarification