Surya Puja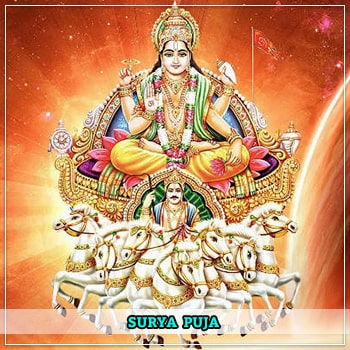 ₹15000
₹11000
Book Now
Important Information about Surya Puja
Puja Name: Surya Puja
Puja Purpose: Blessing of Surya Dev.
Time of Puja: 10-12 Hours with 3 Pandits.
Ideal days for worshipping: According to Auspicious Muhurta as required.
Activities for Surya pooja: Poorva Karma, Puja of Lord Surya (as per auspicious Muhurta), Ashtottara Namavali Path, Surya Stotra path, 7,000 (Seven Thousand) Chanting of Surya Dev, Homam (Havan) and Prayer of Lord Surya.
Important: We will send Puja Images via email.
Assurance: Web Astrologers assure you best puja according to Shastra.

What will we do?
Once you have booked the pooja, you will receive a booking confirmation Email.
After Confirmation, we will worship (Ritual) for you according to Muhurta.
Significance of Sri Surya (Sun) Puja
Dispel the effects of Pitra Doshas and low-confidence creating failure in your life with our religiously planned Sun Planet Pooja or Surya Puja. The pooja conducted by our credible and cultured Pandits of web Astrologers who follow correct rituals and Surya puja Vidhi and advantage, can deliver life-changing advantage in whatever endeavour you have chosen for your life.

Lord Surya (Sun) is a famous Vedic god of the Hindus. Sun is the lord of the entire solar system and hence he is the king of all the planets. Surya signifies the "Atma" hence it is specified with the highest importance. The worship is extremely profitable for overall well being and growth in all areas of life. From the astrological point of view, the Sun is the most important of all the planets and holds a special importance in the chart.

Web Astrologers will arrange Sri Surya pooja on any of auspicious Sundays for the clients. A distinct pooja with a detailed procedure (16 Upacharas) will be done as per the Holy Scriptures by our Vedic priests. We will also perform the chanting of Sri Surya Atharvasheersha. Various psalms and mantras of Lord Surya such as Gayatri mantra, Surya Upanishad, Aditya hridaya etc. will be used along with the events given in the Shastras. Your name and Nakshatra (star) will be included in the Sankalpa before performing the pooja.

Activities for Surya Dev (Sun Planet) Devotees.
Poorva Karma (Ganesh Pujan, Matra Pujan, Abhyudaya, Punya wachan, Kalash Sthapna, Raksha vidhan, Navgrah Pooja).
Pooja of Lord Surya Dev (as per auspicious Muhurta).
Ashtottara Namavali Path, Surya Chalisa path.
7,000 (Seven Thousand) Chanting of Surya Dev.
Mantra – Om Hram Hreem Hroum Sah Suryaya Namah (ॐ ह्रांह्रींहौं स: सूर्यायनम :)
Homam (Havan).
Lord Surya Prayer and Aarti.
Benefits of Sri Surya Poojan
It is very main if the Sun is not well placed in the horoscope.
It resolve any kind of Pitra Doshas in the chart.
Any kind physical problems (especially eye diseases) are cured by blessings of the Sun god.
It is the greatest solution for those with low confidence or willpower.
It is very useful for the students for gaining good concentration level.
It is best to perform this puja those wishing to get into the government sector.
It gives long life and health to the native's father.
Customer Care
If you have any query or need further clarification