Puja For Wealth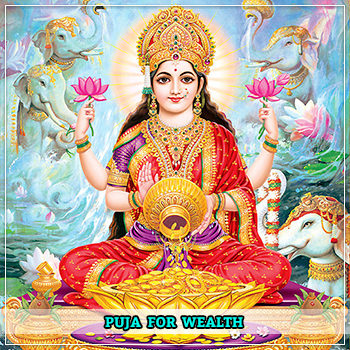 ₹7500
₹5100
Book Now
Important Information about Puja for Wealth and Prosperity
Puja Name: Puja for Wealth and Prosperity.
Puja Purpose: Blessing of Maa Lakshmi and Kuber.
Time of Puja: 6-8 Hours
Ideal days for worshipping: Auspicious Muhurta as required.
Activities for Puja for Wealth and Prosperity: Poorva Karma, Puja of Maa Lakshmi and Lord Kuber (as per auspicious Muhurta), Ashtottara Namavali Path, Lakshmi Stotra path, Homam (Havan) and prayer of Maa Lakshmi and Lord Kuber.
Important: We will send Puja Images through email.
Assurance: WebAstrologers assure to you best puja according to Shastra.
What we will do?
Once you have booked the Puja, you will receive a booking confirmation Email.
After Confirmation, we will worship (Ritual) for you according to Muhurata.

Know About Puja for Wealth and Prosperity
Puja for wealth and affluence as operated by our team of expert and cultured Pandits can bless your life with peace and affluence and benediction of Mata Lakshmi. Wealth or money mantra of Goddess Lakshmi chanted to alleviate anguish and financial problem in your life. This pooja delivers marvelous relief from impoverishment apart from earning you the grace of Mata Lakshmi. You can book your pooja for Wealth and Affluence with our Puja and Anushthan Service at our website WebAstrologers.
Importance of wealth and its puja
Everyone in this world necessity not any logic to perceive the importance of wealth. It is a common sense that without wealth living a comfortable lifestyle is impossible to carry on. Unfortunately, not everyone is lucky to own a great deal of money to live life luxuriously. However, it can be made possible to bring forth financial welfare in your life through pooja For Wealth. This puja is important from the outlook that if gripe in your life has anything to do with wrong Planetary Transits in your kundli its unhealthy effect on your finance can be resolved, thus giving you financial affluence once again.
Activities for Puja for Wealth and Prosperity
PoorvangKarma (Ganesh Pujan, Matra Pujan, Abhyudaya, Punya Wachan, Kalash Sthapana, Raksha vidhan, Navgrah Puja)
Puja of Maa Lakshmi and Lord Kuber (as per auspicious Muhurta)
Ashtottara Namavali Path, Lakshmi Stotra path
Homam (Havan)
Prayer and Aarti of MaaLakshmi and Lord Kuber
Benefits of wealth puja
Wealth puja invokes the god that is acclaimed to bless the menial with affluence. For example, you could perform wealth puja to please goddess Mata Lakshmi as she is the deity of wealth and affluence. You can also worship God Ganesha or Lord Kuber to resolve your financial gripe.
Another benefit of wealth puja is to have the outcome respective to your finance. It remains in healthy condition and no unhealthy effect can ruin it again so long you observe wealth puja.
To say in brief:
Wealth is one of the extremely important things in anyone's life. When such important thing seems going out of your life, wealth puja is recommended to invigorate your luck for financial affluence again. It must be noted that Wealth Puja ought to be performed by a World noted Jyotishis/ Acharyas or Pandits in India and everything should be carried out under his inspections.
Customer Care
If you have any query or need further clarification