Diwali Mahalaxmi Puja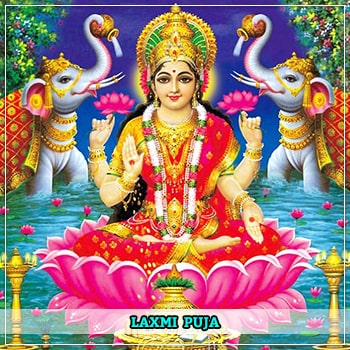 ₹7500
₹5100
Book Now
Important Information about Mahalakshmi Puja
Puja Name: Mahalakshmi Puja
Puja Purpose: Blessing of Goddess Lakshmi.
Time of Puja: 6-8 Hours.
Ideal days for worshipping: Diwali OR other Auspicious Muhurat as required.
Activities for Lakshmi Puja: Poorvang Karma, Puja of Mata Lakshmi (as per auspicious Muhurta), Ashtottara Namavali Path, Lakshmi Stotra path, Homam (Havan), Mata Lakshmi Prayer.
Important: We will send Puja Images via email.
Assurance: web Astrologers assure you best puja according to Shastra.
What will we do?
Once you have booked the pooja, you will receive a booking confirmation Email.
After Confirmation, we will worship (Ritual) for you according to Muhurat.
Detailed Diwali Mahalakshmi Puja By Web Astrologers
Diwali Mahalakshmi Puja operated by our learned professionals is beneficial for you. The Lakshmi Puja blesses the devotees with prolonged affluence and harmonious living. Done under proper rituals, the Laxmi Pooja delivers success and growth in your life. Book Diwali Mahalakshmi pooja by our pooja and Anushthan Services by credible and well-read Pandits.
Lakshmi Puja is dedicated to the event of Diwali Festival. It is considered as a large and highly happy festival for Hindus. On Diwali pujan, each one should buy a new Pratima of Goddess Lakshmi. There are a total 16 ritual steps that are followed by our priests to complete the pooja for Diwali festival in a proper manner to get the blessings of Goddess Lakshmi. Our priests jap the mantras to attract Goddess Lakshmi. All these steps are known as Shodashopachara Puja. We offer satisfying service for Lakshmi Puja and many others at cheap cost. We have a team of knowledgeable Priests to perform the pooja with rituals.
Our Expert teams of Pundits are available for doing credible, detailed and complete laxmi pooja in your name. It will be done in the exact Muhurats and according to your Kundli.
Your Laxmi-Diwali Puja will be done as per the below schedule on 14 November 2020
Diwali Puja Day: 14th Nov 2020
Diwali Puja Muhurta 05:28 PM to 07:24 PM Duration – 01 Hour 56 Min.
Pradosh Kaal – 05:28 PM to 08:07 PM,
Nishith Kaal Muhurta Timing: Nishith Kaal will persist from 1:59 PM to 12:32 AM.
Nov 15.Mahanisheeth Kaala Muhurta Timing: from 1:59 PM to 12:32 AM, Nov 15
Activities for Laxmi Devotees on 14th November 2020
Poorvang Karma (Ganesh Pujan, Matra Pujan, Abhyudaya, Punya wachan, Kalash Sthapna, Raksha vidhan, Navagraha Puja)
pooja of Mata Lakshmi (as per auspicious Muhurta)
Ashtottara Namavali Path, Lakshmi Stotra path
Homam (Havan)
Mata Lakshmi Prayer and Aarti
Benefits of Diwali Mahalakshmi Puja on 14th November 2020:
Worship of Diwali Lakshmi Puja, Lakshmi overfills one's wishes.
Spiritual and materialistic improvement happens.
Success in your chosen career, business or desired endeavors.
Planetary doshas in Kundli get pacified.
She blesses her devotees with Saubhagya (fortunes) and Samriddhi (prosperity).
One automatically obtains the Blessings of Goddess Lakshmi.
Maa Lakshmi is very much respected among the people who are dedicated to prosperity.
Customer Care
If you have any query or need further clarification