Puja For Health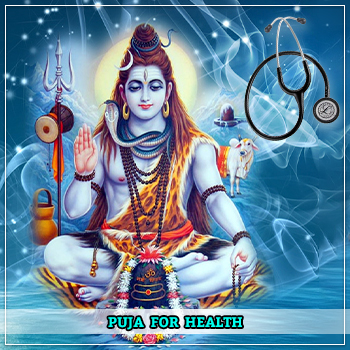 ₹15000
₹11000
Book Now
Important Information About Puja for Health
Puja Name: Puja for Health
Puja Purpose: Benediction of Lord Shiva.
Duration of Puja: 6-8 Hours
Ideal days for worshipping: favorable Muhurta as required.
Activities for Puja for Health: Poorvang Karma, Puja of Lord Shiva (as per auspicious Muhurta), Ashtottara Namavali Path, Shiv Stotra path, 21000 (Twenty One Thousand) Chanting of Lord Shiva, Homa (Havan) and Prayer of Lord Shiva
Important: We will send Puja Images via email.
Assurance: Web Astrologers assure to you best puja according to shastra.
What we will do?
Once you have booked the Puja, you will receive a booking confirmation mail.
After Confirmation, we will worship (Ritual) for you according to Muhurata.
Know About Puja for Health
Puja for Health and Well Being Problems conducted by our team of efficient and expert pandits delivers restorative power to your physical and mental wellbeing. Achieve tremendous health power with our pooja for health and Well Being. Health-rejuvenating puja dedicated to Lord Shiva can benefit you with sound wellbeing on both mental, intellectual level and long life. You can book your puja for good health online at our website WebAstrologers.com. At WebAstrologers.com, you can explore the benefits, correct Pooja Vidhi and Mantra of Goddess Ashtalakshmi.
Why puja for health?
According to astrological principle, if any planet in your kundali positions itself in an unfavourable transit, the chance is that it may give counterproductive results in your health. For example, there might be a situation in which you fall sick all of sudden and treatment would cost you a hefty payout. Nothing can be said for sure during Planetary Transits or Horoscope chart. The result is often unforeseeable. However, puja is only recommended a solution to neutralize the ill effect of your malefic planet from casting its spell on your health and subjecting you to an endless agony of financial as well as health loss. Book your Health puja by Reliable and Learned Pandits.
Activities for Puja for Health
Poorvang Karma(Ganesh Pujan, MatraPujan, Abhyudaya, Punyawachan, KalashSthapana, Rakshavidhan, Navgrah Puja)
Puja of Lord Shiva (as perauspicious Muhurta)
Ashtottara Namavali Path, Shiv Stotra path
21000 (Twenty One Thousand) Chanting of Lord Shiva ( Mantra – Om Namah Shivaay (ॐ नमः शिवाय ) )
Homa (Havan)
Prayer and Aarti of Lord Shiva
Benefits of health puja
The most notable benefit of Health Puja is that it dispels the ill effect of any malefic planet in your horoscope chart and planetary transit, thereby giving your health a reliable protection from its evil spell.
Another benefit you gain out of health puja is to invoke the positive energy in your life that will strengthen you from inside out, thereby making you strong against the invasion of any health disorder caused by unsavoury planets.
Since health puja is solely dedicated to attaining physical soundness, therefore, you get the benefit of putting aside any health-related threats caused due to unnatural reason, such as the one related to the malefic planet in your kundli.
At last, we can say that health puja is good for your physical and mental well being, as it dispels any negative energy or ill effect caused to you because of the unfavourable planet and Planetary Transit in your health horoscope. Make sure the health puja is conducted through proper guidance and rituals under the inspection of a known pundit.
Customer Care
If you have any query or need further clarification