Ganesh Puja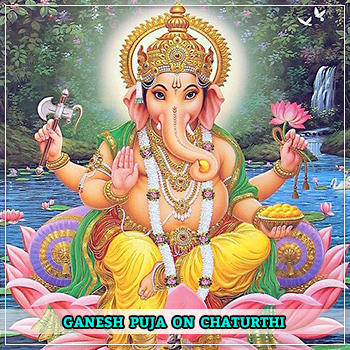 ₹7500
₹5100
Book Now
Important Information about Ganesh Puja on 05 October 2020

Puja Name: Ganesh Puja.
Puja Purpose: Blessing of Lord Ganesha.
Duration of Puja: 6-8 Hours.
Ideal days for worshipping: Ganesh Chaturthi, Vinayak Chaturthi OR Auspicious Muhurta as required.
Activities for Ganesh Puja: Poorvang Karma, pooja of Lord Ganesh (as per auspicious Muhurta), Ashtottara Namavali Path, Ganesh Atharvshish Path, Homam (Havan) and Lord Ganesh Ji Prayer.
Important: We will send Puja Images through email.
Assurance –webAstrologers assure to you best puja according to Shastra.
What we will do?
Once you have booked the pooja, you will receive a booking confirmation Email.
After Confirmation, we will worship (Ritual) for you according to Muhurta.
Attain peace and continual affluence in your life with Ganpati pooja. We have learned professionals having knowledge of years in conducting Ganpati puja with proper Ganesh Chaturthi Pooja Vidhi and Mantra. You will get extreme advantage with this pooja.
Lord Ganesha (Ganpati) is a renowned god for the Hindus. He is the son of Lord Shiva and Goddess Parvati. There can be no favorable ceremony without the blessings of Lord Ganesh pooja. Hence there is a compulsory custom of worshiping Lord Ganesh ji before any favorable work. Lord Ganesh is considered as the dispeller of the obstacles (Vighna Harta). As per Puranic stories, Lord Ganesha is easily fain with devotion.
WebAstrologers will organize Sri Ganesh pooja on Chaturthi (Tithi) of every month for Ganesha devotes by credible and Knowledgeable Pandits. A special pooja with a detailed procedure (16upacharas) will be performed as per the scriptures by a team of our Vedic priests. We will organize the chanting of Sri Ganpati Atharvasheersha along with the Abhishek. Various forms Lord Ganesha (Maha Ganpati, Siddhi Vinayaka, Lakshmi Ganpati etc.) will be produce as per the procedure stipulated in the Shastra. Your name and Nakshatra (star) will be included in the Sankalpa before performing the pooja.
Activities for Ganesh Puja
Poorvang Karma (Ganesh Pujan, Mantra Pujan, Abhyudaya, Punya wachan, Kalash Sthapna, Raksha vidhan, Navgrah Puja)
Pooja of Lord Ganesh (as per auspicious Muhurta)
Ashtottara Namavali Path, Ganesh Atharvshish Path
Homam (Havan)s
Lord Ganesh Ji Prayer and Aarti
Benefits of Sankata Ganesh Puja
It is an Excellent pooja for those who are under debt (loans).
Obstacles related to property and land matters are quickly removed.
For ensuring success in the career of the job seekers.
Any unexplained health problems are cured by the blessings of Ganesha.
It helps in regaining unison for those having marital problems.
Businessmen should perform this puja to enrich their business and profits.
Students who are facing difficulties in studies should get this puja performed.
Customer Care
If you have any query or need further clarification