Mangal Puja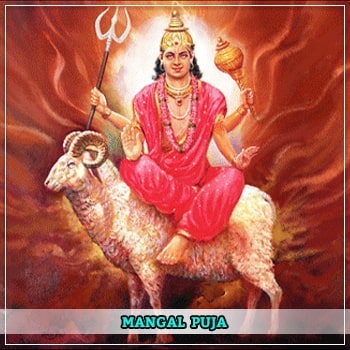 ₹15000
₹11000
Book Now
Important Information about Mangal Puja
Puja Name: Mangal Puja
Puja Purpose: Blessing of Lord Mangal.
Time of Puja: 10-12 Hours with 3 Pandits.
Ideal days for worshipping: Tuesday.
Activities for Mangal Puja: Poorvang Karma, Puja of Lord Mangal (as per auspicious Muhurta), Ashtottara Namavali Path, MangalStotra path, 10000 (Ten Thousand) Chanting of MangalDev, Homam (Havan) and Prayer of Lord Mangal.
Important: We will send Puja Images via email.
Assurance: Web Astrologers assure to you best puja according to Shastra.

What we will do?
Once you have booked the pooja, you will receive a booking confirmation Email.
After Confirmation, we will worship (Ritual) for you according to Muhurata.
Significance of Sri Mangal (Mars) Puja
Manglik Dosha Nivaran pooja is dedicated to lord Mars. Mangal Puja fulfills your life's desire and qualifies you to earn desired progeny and success in your chosen endeavor. We have experienced Pandits who can perform proper Mangal Shanti Pooja for you to experience peace and key for your life's astrological problems.

Lord Mangal (Mars) has a special relationship with the earth because he is considered to be the son of the earth (Bhoomi Putra). Hence its effects on the living beings of the earth are special than other planets. It signifies courage, abilities, violence, and ability to face problems. Usually, a disadvantageous position of Mars is also linked with bridal issues (Manglik Dosha). Hence those with a weak Mars in the chart should try to perform related remedy.

Web Astrologers will arrange Sri Mangala Poojan a favorable Tuesday by Reliable and cultured Pandits. Our Top Jyotishi Pandit in South Delhi will perform a special pooja for the clients as per the procedure of the Shastras. Vedic and Puranic mantras will be chant in the pujan of Lord Bhauma (Mars). Additionally, the Rina Mochana Mangal Stotra will be done for those having borrowed problems. Those wishing for a progeny can perform "Bhauma Vrata" on Tuesdays for better results.

Activities for Mangal Dev (Mars Planet) Devotees
Poorvang Karma (Ganesh Pujan, Matra Pujan, Abhyudaya, Punya wachan, Kalash Sthapna, Raksha vidhan, Navgrah Puja)
Puja of Lord MangalDev (as per auspicious Muhurta)
Ashtottara Namavali Path, Mangal Chalisa path
10000 (Ten Thousand) Chanting of MangalDev
Mantra – Om KramKreemKroumSah BhoumaayNamah (ॐक्रांक्रींक्रौंस: भौमायनम: )
Homam (Havan)
Lord Mangal Prayer and Aarti.
Benefits of Sri Bhauma Pujan
Natives with a weak Mars in the chart and those with Manglik Dosha can get fine relief.
This puja helps to control the violence and irritation.
It helps one to take right decisions towards his ambitions.
This puja supportive for those who have a lack of decision-making ability and courage.
It is the best solution for those facing debts or borrow dispute.
Worship of Mars bestows one with a desired progeny.
It helps to fall down the health issues related to the blood.
Customer Care
If you have any query or need further clarification