Shat Chandi Path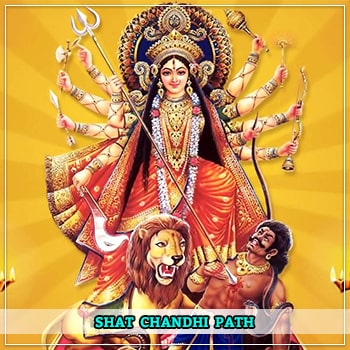 ₹250000
₹250000
Book Now
Important Information Shat Chandi Path
Puja Name: Shat Chandi Path
Puja Purpose: Blessing of Ma Durga.
Duration of Puja: 10 to 12 Hours with 7 Days and 5 Pandits.
Ideal days for worshipping: According to auspicious Muhurta as required.
Activities for Shat Chandi Path: Poorva Karma, Puja of Ma Durga (as per auspicious Muhurta), Ashtottara Namavali Path, Durga Stotra path, 100 Saptsati Path of Ma Durga, Homam (Havan) and Prayer, Aarti of Ma Durga.
Important: We will send Anushthan Images via email.
Assurance: WebAstrologers assure you best Anushthan according to Shastra.

What will we do?
Once you have booked the Puja, you will receive a booking confirmation Email.
After Confirmation, we will worship (Ritual) for you according to Muhurata.
The Shat Chandi Path is a very powerful and peerless ritual having Saptashati mantras. This Anushthan is an act to get blessings and virtue from the Divine Mother. We perform this path with all rituals so that the devotees receive advantages like good health, success, protection, and fulfillment of all their desires. The devotees get the blessings of Divine Goddess Maha Kali, Goddess Saraswati, and Maha Laxmi. This Anushthan prevents misfortune and frees the devotees from debts. The powerful oscillations are invoked and all the obstacles are removed. We provide Puja and Anushthan Services on the path to the devotees at suitable prices.

Activities for Shat Chandi Path
Poorva Karma (Ganesh Pujan, Matra Pujan, Abhyudaya, Punya Wachan, Kalash Sthapana, Raksha vidhan, Navgrah Puja)
Puja of Maa Durga (as per auspicious Muhurta)
Ashtottara Namavali Path, Durga Stotra path
100 Saptashati Path of Ma Durga
Homam (Havan)
Prayer and Aarti of Ma Durga
Benefits of Shat Chandi path
Shat Chandi Path is the Deference to divine mother goddess Durga; hence, the devotees get blessed with her kindness.
Perpetual happiness and welfare well in your life through Shat Chandi Path.
The shat Chandi yagya is for the completion of the serenity of life. It gives lots of joy and wealth.
Shat Chandi path empowers your life with helpful energy that can neutralize unhealthy effects in your life
This path can earn you the blessing of three important forms of Ma Durga, like Maha Kali, Maha Saraswati, and Maha Laxmi.
Mother Durga's Grace.
Customer Care
If you have any query or need further clarification