Satyanarayan Puja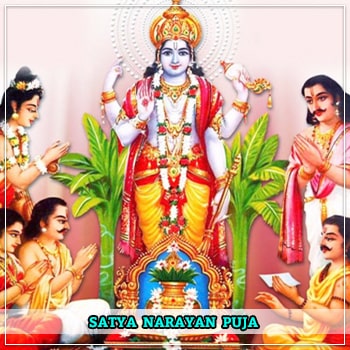 ₹7500
₹5100
Book Now
Important Information about Satya Narayan Puja
Puja Name: Satya Narayan Puja
Puja Purpose: Blessing of Lord Satya Narayan.
Time of Puja: 5-6 Hours
Ideal days for worshipping: Auspicious Muhurta as required.
Activities for Satya Narayan pooja: Poorva Karma, Puja of God Satya Narayan (as per auspicious Muhurta), Ashtottara Namavali Path, Vishnu Stotra path, Satya Narayan Katha and Prayer of God Satya Narayan.
Important: We will send Pooja Images via email.
Assurance: Web Astrologers assure you best puja according to Shastra.
What will we do?
Once you have booked the pooja, you will receive a booking confirmation Email.
After Confirmation, we will worship (Ritual) for you according to Muhurta.
Importance of Satya Narayan Puja and Vratas
Sri Satya Narayan swami pooja has its own divine significance for the devotees. We at Web Astrologers conduct Satya Narayan Puja that follows every ritual and samskara as ascribed in the Vedic books and astrological recommendations. Peace and affluence bestows in your life post completion of the pooja. Book Satya Narayan puja By Best Pooja and Anushthan Services by Reliable and knowledgeable Pandits.
Lord Satya Narayan is a form of Lord Narayan which means the highest lord. God Satya Narayan is the lord of veracity and affluence. There is a vedic ritual of Satya Narayan puja along with Vrata and Katha (narration of the divine story). This puja is celebrated in a festival manner, relatives and dear ones are invited for the Pooja and Katha. Usually, the individual observes a fast on the day of Katha. This puja is usually done on Purnima (full moon) or on an Ekadashi of any month. Satya Narayan Puja is usually organized during any favourable events like marriage, naming ceremony, house warming ceremony etc.
Web Astrologers will arrange Sri Satya Narayan puja and Katha for the devotees. A special pooja and a detailed Katha will be performed as per the Puranas by our Vedic priests. Best Vedic Jyotish in Delhi will also conduct the recitation of Sri Satya Narayan Katha along with the chanting of sacred Vedic hymns like Purusha Suktam, Narayan Suktam etc. God Vishnu will be venerated as per the procedure prescribed in the Shastras. Your name and birth details will be included in the Sankalpa before the pooja. You should try to keep away from non-vegetarian food during the given day and observe a fast with faith (if possible. This will make your life more successful and peaceful.
Activities for Satya Narayan Puja
Poorva Karma (Ganesh Pujan, Matra Pujan, Abhyudaya, Punya wachan, Kalash Sthapna, Raksha vidhan, Navgrah Puja).
Pooja of Lord Satya Narayan (as per auspicious Muhurta).
Ashtottara Namavali Path.
Vishnu Stotra path, Satya Narayan Katha.
Prayer and Aarti of Lord Satya narayan.
Benefits of Sri Satya Narayan Katha (Pujan)
Those wishing for a child should observe these Vratas for good results.
It improves positivity of any favourable event taking place in your family.
This is careful to be particularly useful in enriching professional career and income.
Blessing of Lord Satya Narayan will be helpful for job seekers and students.
This pooja is believed to be very effective for domestic disputes and family issues.
It gives positive results for those suffering from health and physical problems.
Any harmful doshas will be cured with the blessings of Lord Satya Narayan.
Customer Care
If you have any query or need further clarification