Shani Puja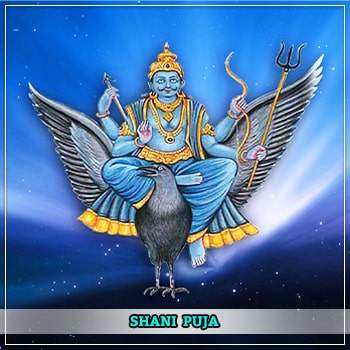 ₹15000
₹11000
Book Now
Important Information about Shani Puja
Puja Name: Shani Puja
Puja Purpose: Blessing of God Shani Dev.
Time of Puja: 10-12 Hours with 3 Pandits.
Ideal days for worshipping: Saturday
Activities for Shani Pooja: Poorva Karma, Puja of God Shani (as per auspicious Muhurta), Ashtottara Namavali Path, Shani Stotra path, 23,000 (Twenty Three Thousand) Chanting of Shani Dev, Homam (Havan) and Prayer of God Shani.
Important: We will send Puja Images via email.
Assurance: Web Astrologers assure you the best puja according to Shastra.

What will we do?
Once you have booked the Pooja, you will receive a booking confirmation Email.
After Confirmation, we will worship (Ritual) for you according to Muhurta.
Significance of Sri Shani (Saturn) Puja
Shani Pooja or Saturn worship aims to soothe the unfavourable effects of the planet, thus blessing you with ample peace, prosperity and continuous growth in your chosen endeavour. Book your Shani pooja and experience the divine blessing of Shani Dev in your life. We follow every ritual and correct Shani Dev Pooja Vidhi so that the optimistic effects of the same can have in your life faster.

God Shani (Saturn) is the second largest planet in our solar system. It is a very bizarre planet because of its gaseous composition and due to its unique rings. It is the most unique planet in terms of Astrology. Saturn is believed to be the son of God Surya (Sun). It is the planet of justice and perseverance. It is one of the slowest rotating planets and hence known as "Amanda". Saturn usually is one of the most fear planets because of its longer transits (when unfavourable). It is very important to rectify the effects of a bad Saturn in the chart or when the Saturn transit is unfavourable.

Web Astrologers will arrange a special Shani puja on a Saturday during the Pradosh kaalam. Our well-trained group of Vedic priests will perform this pooja as per the protocols of the Shastras. A detailed Shodashopachara pooja will be performed along with the Kalash Sthapna, and invocation. During the Sankalpa, your birth details will be taken into account. Various Vedic and Puranic mantras of God Saturn will be chanted during the pooja. Along with this, various hymns like Shani Vajra Panjarika Stotram will also be recited.

Activities for Shani Dev (Saturn Planet) Devotees
Poorva Karma (Ganesh Pujan, Matra Pujan, Abhyudaya, Punya wachan, Kalash Sthapna, Raksha vidhan, Navgrah pooja).
Pooja of God Shani Dev (as per auspicious Muhurta).
Ashtottara Namavali Path, Shani Chalisa path.
23,000 (Twenty Three Thousand) Chanting of Shani Dev
Mantra – Om Pram Preem Proum Sah Shanaye Namah (ॐ प्रांप्रींप्रौं स: शनयेनम :).
Homam (Havan).
God Shani Prayer and Aarti.
Benefits of Sri Shani Pujan
It is very vital for those undergoing an unfavourable transit (Shani Saadesati).
It is highly recommended for those with a malefic Saturn in their birth charts.
Those who are facing bad-luck regularly should perform it.
It is a powerful remedy for those suffering from bad effects or black magic.
It is very effective in the case of any long illness.
It is an effective way to weak the negative karmas.
It is very helpful in case of depression, low assurance etc.
It is extremely beneficial for those in the working sector.
Customer Care
If you have any query or need further clarification