Ketu Puja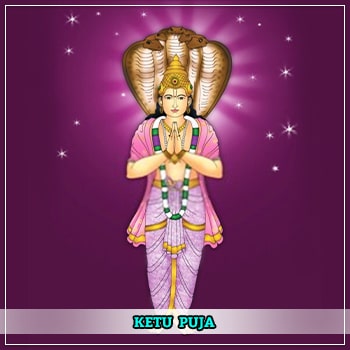 ₹15000
₹11000
Book Now
Important Information about Ketu Puja
Puja Name: Ketu Puja
Puja Purpose: Blessing of Lord Ketu
Duration of Puja: 10-12 Hours with 3 Pandits
Ideal days for worshipping: Tuesday.
Activities for Ketu Puja: Poorva Karma, Puja of Lord Ketu (as per auspicious Muhurta), Ashtottara Namavali Path, Ketu Stotra path, 17000 (Seventeen Thousand) Chanting of Ketu Dev, Homam (Havan), and Prayer of Lord Ketu.
Important: We will send Puja Images via Email.
Assurance: Web Astrologers assure to you best puja according to Shastra.
What we will do?
Once you have booked the Puja, you will receive a booking confirmation Email.
After Approval, we will worship (Ritual) for you according to Muhurata.
Importance of Sri Ketu (South Node) Puja
Fix the disadvantageous results of Ketu in your birth chart, decrease the Impact of Kaal Sarp Dosha and settle your assets related controversy with our Ketu puja. We follow every Rahu Ketu pooja vidhi and pronounce correct mantras so that the positive profits of the same you can have in your life quicker.
Lord Ketu (South Node) is the second shadow planet of the solar system. It is believed to be the second half of Rahu. Hence both of them move in a fixed styleat a fixed space from each other. Ketu is a very important in Vedic astrology. It mainly signifies spirituality, detachment, foreign settlement, karma, liberation, retirement etc. As per many astrological scriptures, a lot depends on the position of Ketu in the life of apersonal. It is also related to mystery and sudden or unannounced gains. One must carefully analyze the chart and perform the essential remedies if needed.
Web Astrologers will organizing the Ketu puja on a Tuesday during convenient muhurat. Our Top Jyotishi Pandits in South Delhi will perform the worship in parity with the related scriptures. A detailed shodashopachara puja will be performed along with the Kalashasthapana, mandala Puja, and invocation. During the Sankalpa, your name and birth details will be added. Ketu puja will be led with the help of Vedic and Puranic mantras along with the famous Stotras related to Sri Ketu by pooja and Anushthan Services.
Activities for Ketu Dev (Ketu Planet) Devotees
Poorva Karma (Ganesh Pujan, Matra Pujan, Abhyudaya, Punya Wachan, Kalash Sthapana, Raksha vidhan, Navgrah Puja)
Puja of Lord Ketu Dev (as per auspicious Muhurta
Ashtottara Namavali Path, Ketu Chalisa path
17000 (Seventeen Thousand) Chanting of Ketu Dev
Mantra – Om Stram Streem Stroum Sah Ketway Namah (ॐ स्रां स्रीं स्रों स: केतवे नम:)
Homam (Havan)
Lord Ketu Prayer and Aarti.
Benefits of Sri Ketu Pujan
It is extremely useful for those with a malefic Ketu in their charts.
It is important to perform this pooja for those having Kaal Sarp Dosha or Naga Dosha.
It also helps to decrease the negative karmas of a being.
It helps positively for individuals wishing to settle abroad.
It gives metaphysical progress for those inclined towards religion and spirituality.
It can be very useful for those having own or ancestral property disputes.
It can bring sudden, unexpected gains in a mysterious way.
Customer Care
If you have any query or need further clarification