Laxmi Pujan Samagri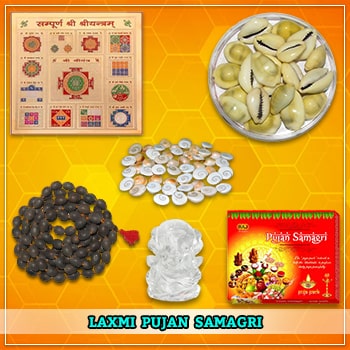 ₹7500
₹5500
Book Now
Gift Yourself Sanctified Shri Shri Yantra
Wonderful, Miraculous and Eliminator of all your problems Shri Shri Yantra

In this worldly age, Lakshmi or Wealth is mostly important. Scriptures mention Lakshmi to be unbalanced and astute. There are many measures described in the scriptures for the constancy of Mahalakshmi. One of them is the singular worship of Shri Shri Yantra the deity being Sri Vidya or powerfully endowed Devi Lalita in the Chakra of worship.

As is obvious by the name, Sri Yantra, 'Sri' describes Yantra which is dearest to Goddess laxmi. Laxmi ji mentions, Sri Yantra is the base on which I reside, it is my soul. This Yantra is the mainly powerful of all Yantras, hence it is called Yantra-Raaj. This Powerful Yantra keeps away meanness. Since it is so dear to Goddess Laxmi, we can keep it in our altar of worship to get Her Grace.

All the five festivals in Diwali are very crucial. We have created all information like the complete process for doing Puja and on which day which Puja needs to be done. If we speak about Goddess Laxmi and we ignore Shri Yantra and that is not suitable. Following our tradition of Diwali Pooja this year also we bring a special package only for Diwali-Lakshmi Pooja at a very reasonable price. You will get genuine and sanctified five objects which are necessary for welfare. Details are given below:-

All this pure and sanctified objects will give you welfare and positive results. You will also get bandy information about how to perform the overall Pooja. This Pooja, when done with our material, will surely open doors for Laxmi and affluence. You can also read more knowledge about this series of five festivals in our blog section.

If you are keen on the stability of wealth and comfort from problems with Sri Yantra, contact Web Astrologers today. The scholars and pundits of Web Astrologers have devised and sanctified the Sri Yantra, for amazing and miraculous relief from suffering and reduce your problems. Place your Order today to gift yourself Shri Shri Mahayantram with four more Laxmi Kalpa for your Diwali pooja.

Your Diwali Pooja Box Will Contain:-
Sanctified Shri Shri Yantra.
Vighna Nashak (problem remover) Sphatik Shri Ganesh Murti.
Laxmi Kaarak Kauri (gain Money) for Prosperity.
Kamal Gatta Mala (Rosary) which is very dear to Goddess Laxmi.
Gomti Chakra which is an actual form of Laxmi.
All in One box for your convenience and understanding.
Pooja Method.
Customer Care
If you have any query or need further clarification