One Month Shravan Shiv Puja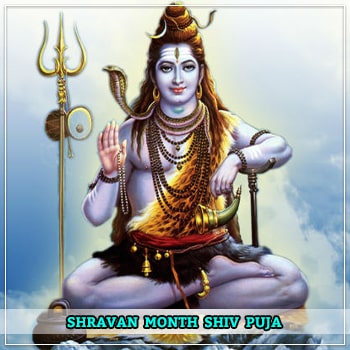 ₹21000
₹15500
Book Now
Important Information about 1 (One) Month Shravan Shiv Puja
Puja Name: Shravan Month Shiv Puja
Puja Purpose: Blessing of Lord Shiva.
Time of Puja: 1 Month
Ideal days for worshiping: Auspicious Muhurata as required.
Activities for Shravan Month Shiv Puja: Poorvang Karma, Puja of Lord Shiva and Abhishek (as per auspicious Muhurta), Ashtottara Namavali Path, Shiva Stotra path and Prayer of Lord Shiva.
Important: We will send Puja Images via email.
Assurance: WebAstrologers assure you the best puja according to Shastra.

What will we do?
Once you have booked the pooja, you will receive a booking confirmation Email.
After Confirmation, we will worship (Ritual) for you according to Muhurta.
Shravan Month (Sawan Maas) and importance of Shiv pooja

About Lord Shiva
The Supreme Divine Being, the Destroyer of the bad Force and the most liberal God of Gods, Lord Shiva or Bholenath or Neelkanth or Mahadeva is said to be the root origin of all religions situated in the world today. Narrated in diverse verses of different religious holy books worldwide, it is believed that when Gods set their feet on the Earth the first time, those were the eras when every inch of earth's parcel was blanket under the implausible vastness of the ice age. The situation hereby ruled out permanently the possibility of human settlement on the earth. That was the time when Lord Shiva chose mountain KAILASH as his abode place.

The first beginning of breeding a life on the earth was started by none other than the mysterious cosmic force of Lord Shiva for which he is attributed as AADIDEV aka THE GOD OF INCEPTION. Apart from being called AADIDEV, Lord Shiva is also called AADINATH and AADISH. According to the narrative of Purana, Shankar (Lord Shiva) is the name of RUDRA which is the name given to him by Veda. Lord Shiva is described as the Divine Almighty because he is invulnerable against the giant evil force of Ashuras and so he has rescued Gods of the Heaven from the pathless challenges of the goliaths.

Lord Shiva is not endeared to Gods only, but he is also revered by the Ashuras, especially Guru Brihaspati (the mentor of Ashuras) is said to be a perfervid devotee of Lord Shiva.

Shiv Puja in Shravan Month
The days of July-August hold key importance as they are the periods known to mark commencement of Lord Shiva worship. Although worship of Lord Shiva is considered favorable in every day, especially on Monday, but Sawan Maas is given the utmost regards and respects from religious perspective, as in these periods the transcendental power of Shiva rests at its pinnacle, therefore devotees are at the receiving end of blessings, generosity and boons from Lord Shiva if they worship the God with devotions by heart. The fall of Sawan month marks the dawn of a new spiritual and divine era of Lord Mahesh or Lord Shiva wherein devotees get the benefits, such as spiritual elevation, clear conscience, and perpetual prosperity, growth and success in every walk of their lives. Besides, Shiv puja during Sawan month leads to effective solutions destroying unfavorable energy force of planetary Doshas, thus restoring peace and positive progress in your life.

Importance of Lord Shiva worship during Shravan Maas
Raise your soul with improved metaphysical conscience which is a boon to equalize your soul to the status of divinity.
The power of unfavorable energy force gets permanently destroyed, thus restart peace and progress in your life.
Shiv pooja during Shravan is a pious step by which any health related concern gets resolved and devotees get the life free from accursed health syndromes.
Women looking for a husband with virtues of Lord Shiva get their wish granted by Shiva puja during Sawan Maas.
Devotees attain salvation that is also known as Moksha.
Peace, prosperity and gainful results in any human activity such as business, finance etc. comes Shravan Month Shiv Puja.
Shravan Month Details (from 26th July 2021 to 16th August 2021):
First day of Shravan Month and First Shravan Somwar Vrat 26, July 2021 (Monday)
Sawan Second Somwar Vrat 02, Aug 2021 (Monday)
Sawan Third Somwar Vrat 09, Aug 2021 (Monday)
Sawan Fourth Somwar Vrat 16, Aug 2021 (Monday)
Activities for Shravan Month Shiv Puja (from 25th July 2021 to 22nd August 2021)
Poorva Karma (Ganesh Pujan, Matra Pujan, Abhyudaya, Punya wachan, Kalash Sthapna, Raksha vidhan, Navgrah Puja) Daily.
Puja of Lord Shiva and Abhishek (as per favorable Muhurta) Daily.
Ashtottara Namavali Path, Shiva Stotra path Daily.
Rudra Abhishek and Chanting of Lord Shiva Daily.
Prayer and Aarti of Lord Shiva Daily.
In brief
The periods of Shravan emit purity of Lord Shiva who is known as the best divine almighty. During these periods, it is believed that devotees of Lord Shiva will earn the privilege of divine blessing of the God, besides answering many of his anguish caused by planetary Doshas or by any other negative energy force with the concrete solution provided to devotees by Shiva pooja. Although there are other fortunate occasions like Chaturdashi, Monday every week and even MAHASHIVRATRI in which devotees can worship Lord Shiva, but as per mythological and religious context, Shravan Month is the period in which divine power of Lord Shiva is at its supreme nature. Therefore, Tran's original solutions to your life or any trouble or problem will be provided to you if you worship Lord Shiva by dedication and piousness of your heart. Book your Shravan month puja by our pooja and Anushthan Services by Reliable and cultured Pandits and get effective solutions.
We provide a complete one month shravan maas pooja for our devotees from 25th July 2021 to 22nd August 2021.
Customer Care
If you have any query or need further clarification