Chandra Puja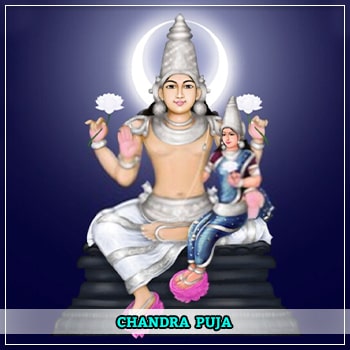 ₹15000
₹11000
Book Now
Essential Information about Chandra Puja
Puja Name: Chandra Puja
Puja Purpose: Blessing of Lord Chandra.
Time of Puja: 10-12 Hours with 3 Pandits.
Best days for worshipping: Monday.
Activities for Chandra Puja: Poorvang Karma, Puja of Lord Chandra (as per favorable Muhurta), Ashtottara Namavali Path, Chandra Stotra path, 11000 (Eleven Thousand) Chanting of Chandra Dev, Homam (Havan) and Prayer of Lord Chandra.
Important of Chandra puja: We will send Puja Images via email.
Assurance: Web Astrologers assure to you best puja according to Shastra.
What we will do on Chandra puja?
Once you have reserved the Puja, you will receive a booking confirmation Email.
After booking conformation, we will worship (Ritual) for you according to Muhurat.
Importance of Sri Chandra (Moon) pooja
Control mental weakness and fix psychological problems with Chandra pooja as offered by Web Astrologers through its team of dedicated and experienced Pandits scrambled to arrange the Moon Pooja or Chandra Grah Puja Vidhi and Mantra under proper rituals and rite for you.

Lord Chandra (Moon) is the closest planet (satellite) to the earth in this solar system. The waxing and waning moons have a direct impact on the living and nonliving beings of the earth. Chandra is the planet which signifies the mind. It is the fastest moving planet in the solar system. It is one of the most important planets in Astrology because many major calculations are based on the Moon. It is the second most main planet after the Sun. In the Vedas, the moon is also known as "Soma" which has the power of healing and nurturing. Our pooja and Anushthan Service Book Chandra Puja in WebAstrologers.com.

WebAstrologers will organize Sri Chandra puja on a Monday during a favorable Muhurta. Our priests will perform a special puja for our clients in a Faithful and extensive manner. Vedic and Puran mantras will be used for the invocation and the detailed puja of Lord Chandra. A detailed Shodashopachara pujan will be done along with the Kalash Sthapna as per the instruction of the Shastras. Along with this, you will also get an energized Chandra Yantra which you can keep in your house for daily worship.

Activities for Chandra Dev (Moon Planet) Devotees
Poorvang Karma (Ganesh Pujan, Matra Pujan, Abhyudaya, Punya wachan, Kalash Sthapana, Raksha vidhan, Navgrah Puja)
Puja of Lord Chandra Dev (as per favorable Muhurta)
Ashtottara Namavali Path, Chandra Chalisa path
11000 (Eleven Thousand) Chanting of Chandra Dev
Mantra – Om ShramShreemShroumSah ChandramaseNamah (ॐश्रांश्रींश्रौंस: चन्द्रमसेनम:)
Homam (Havan)
Lord Chandra Prayer and Aarti.
Benefits of Sri Chandra Pujan
For those who have a weaker Moon in their respective horoscopes.
For those suffering from stress, depression, or any psychological problems.
This pooja helps to control the uncertain mind.
It gives very good results for the well being of the mother.
It is useful for those who are in a profession which has frequent traveling.
Those who are into artistical fields should do this pooja to enhance their careers.
Customer Care
If you have any query or need further clarification