Brihaspati(Guru)Puja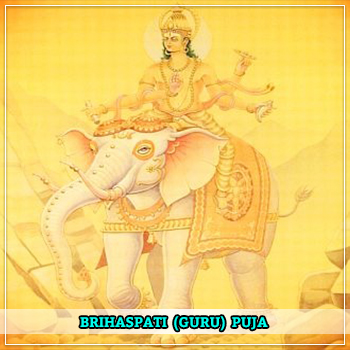 ₹15000
₹11000
Book Now
Important Information about Brihaspati Puja
Puja Name: Brihaspati or Guru Puja
Puja Purpose: Blessing of Lord Guru or Brihaspati.
Duration of Puja: 10-12 Hours with 3 Acharyas or Pandits.
Ideal days for worshipping: Thursday.
Activities for Brihaspati (guru) Puja: Poorva Karma, Pooja of Lord Guru or Brihaspati (as per favorable Muhurta), Ashtottara Namavali Path, Brihaspati Stotra path, 19000 (Nineteen Thousand) Chanting of Brihaspati Dev. Homam (Havan) and Prayer of Lord Guru or Brihaspati.
Important: We will send Puja Images via email.
Assurance: Web Astrologers assure to you best puja according to Vedic shastra, Special for You.
What we will do on Brihaspati Puja?
• Once you have reserved the Puja, you will receive a booking confirmation mail.
• After booking conformation, we will worship (Ritual) for you according to Muhurat.
Significance of Sri Guru (Jupiter) Puja
Having issue in family life? Enroll to our Guru Pooja or Brihaspati Puja and shot out the problem for good. We have group of expert and best qualified professionals to manage guru (Jupiter) pooja with proper Guru Puja Vidhi and Mantra and other rituals to be followed in this reference.
Lord Brihaspati or Guru (Jupiter) is the largest planet in our universe. Due to its big size, it has a very strong effect on every planet in our zodiac. Jupiter is general regard as the same as with the Guru of devatas, Sri Brihaspati. Hence we consider as Guru with intelligence, decision-making, and faith. It also signifies adequacy, selflessness, and benevolence. Jupiter plays a major role in the domestic life and progeny concerned issues as well.
WebAstrologers will organize a special Brihaspati (Guru) Pooja on a Thursday. A team of best qualified Vedic Acharya Pandits will perform the pooja as per the Indian Vedic methods. The pooja will be done after taking a Sankalpa which will include your real name, nachatra, gotra and birth details. Brihaspati Suktam, Guru Mantra, and related Vedic psalm will be chanted during the Pooja and a sodashaupachara puja will be carry out. We provide our services of Pooja and Anushthan at very prices to the devotee.

Activities for Brihaspati Dev. (Jupiter Planet) Devotees
Purvang Karma (Ganesh Pujan, Matra Pujan, Abhyudaya, Punya Wachan, Kalash Sthapana, Raksha vidhan, Navgrah Puja)
Puja of Lord Brihaspati Dev. (as per auspicious Muhurta)
Ashtottara Namavali Path, Brihaspati Chalisa path
19000 (Nineteen Thousand) Chanting of Brihaspati Dev.
Homam (Havan)
Lord Brihaspati Prayer and Aarti.
Mantra: Om Gram Greem Groum Sah Guruway Namah (ॐ ग्रां ग्रीं ग्रौं स: गुरवे नम :)
Benefits of Sri Brihaspati (Guru) Pujan
It is very useful for those who having a weak Jupiter in their charts.
Guru is the giver of progeny hence this puja is for those wishing for a progeny.
It stables the family life of those having disputes in their domestic life.
It should be specially done for those wanting for fame, recognition, and success.
Jupiter Planet is the key for those in the trading sector.
It enhances the noble qualities and motivates the person towards righteousness.
It is good for people with weak health, specifically those with liver diseases.
Customer Care
If you have any query or need further clarification