Navgrah Shanti Anushthan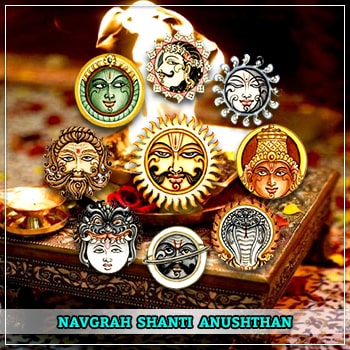 ₹31000
₹21000
Book Now
Important Information about Navgrah Shanti Anushthan
Puja Name: Navgrah Shanti Anushthan
Puja Purpose: Blessing of 9 Planets (Navagraha).
Time of Puja: 10-12 Hours with 3 Pandits and 2 days.
Ideal days for Worshipping: According to auspicious Muhurta as required.
Activities for Navgrah Shanti Anushthan: Poorva Karma, pooja of Navgrah 9 Planets (as per auspicious Muhurta), Ashtottara Namavali Path, Navgrah Stotra path, Chanting of Navgrah Mantra 25000, Homam (Havan) and Prayer of Navgrah (All nine Planets).
Important: We will send Anushthan Images via email.
Assurance: WebAstrologers assure you best Anushthan according to Shastra.

What will we do?
Once you have booked the pooja, you will receive a booking confirmation Email.
After Confirmation, we will worship (Ritual) for you according to Muhurta.
It is believed that Navgrahas play a very important role in determining the future of a person and have valued effects on their lives. Navgrah Anushthan by pooja and Anushthan Services by Reliable and cultured Acharyas or Pandits provides alignment with the upper frequencies of all the nine planets and also helps to reduce their unfavorable effects. We will complete Navgrah Shanti Anushthan that will remove all the bad effects and evil energy and Get upgrade Positive Energy and Peace for the person. All the bad s effects that one is facing in life are removed with the help of this Anushthan and we perform complete Anushthan following every single step and provide services at a reasonable price.

Activities for Navgrah Shanti Anushthan
Poorva Karma (Ganesh Pujan, Matra Pujan, Abhyudaya, Punya wachan, Kalash Sthapna, Raksha vidhan, Navgrah Puja)
Pooja of Navgrah 9 Planets (as per auspicious Muhurta)
Ashtottara Namavali Path, Navgrah Stotra path
25,000 (Twenty Five Thousand) Chanting of Navgrah (9 Planets)
Mantra: Om Brahmaa Muraaris-Tripuraantakaarii, Bhaanuh Shashii Bhuumisuto Budhashch |
Gurushch shukrah Shani-Raahu-Ketavah, Serve Graha Shanti Kara Bhavantuh ||
Homam (Havan)
Prayer & Aarti of Navgrah (All nine Planets)
Benefits of Navgrah Shanti Anushthan
Positive things start to enter in your life. For example, any obstacle in your career or marriage prospect gets resolved.
Hindrance no longer remains in your life to hinder you from making progress.
The Anushthan is a way of invoking divine power of deities. Hence, positive energy force transmigrates in your life.
Malefic power of unfavorable planetary transit in your horoscope and unfavorable planets in your horoscope can do no harm.
All nine planet's Grace
Customer Care
If you have any query or need further clarification