Shiv Puja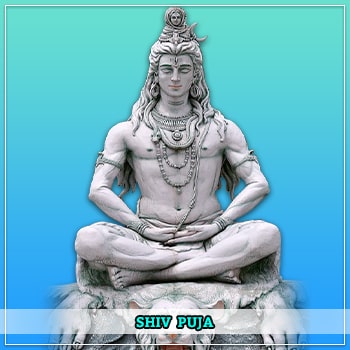 ₹7500
₹5100
Book Now
Important Information about Shiv Puja
Puja Name: Shiv Puja
Puja Purpose: Blessing Of God Shiva.
Time of Puja: 6-8 Hours.
Ideal days for worshipping: Maha Shivratri or Shravan Month OR Auspicious Muhurta as required.
Activities for Shiv Puja: Poorvang Karma, Puja of God Shiva (as per auspicious Muhurta), Ashtottara Namavali Path, Shiva Stotra path, Homa (Havan), and Prayer of God Shiva.
Important: We will send Puja Images via email.
Assurance: Web Astrologers assure to you best puja according to Shastra.
What we will do?
Once you have booked the Puja, you will receive a booking confirmation Email.
After Confirmation, we will worship (Ritual) for you according to Muhurata.

Shiv Puja and Abhishek
Realization of peace and affluence and removal of planetary doshas is now made possible with our top-notch and sanctimonious God Shiva Pooja or Shiv Puja operated by our team of knowledgeable Acharyas or Pandits. Involved in the worship also includes shiv manes pooja to advantage you and Get Blessings Of God Shiva by our Puja and Anushthan Services by credible and Knowledgeable Acharyas or Pandits.

Shiv Puja is featured to get the blessings of God Shiva. God Shiva fulfills all the needs of devotees if worship is done with pure holiness and in a proper manner. On the opportunity of Shravan Maas Festival or Maha Shivratri or every month of Shiv Chaturdashi, Web Astrologers will organizing a special pooja along with an Abhishek, which is based on the reliable events of the Agamas and will be done with the chanting of sacred Vedic hymns and Mahamrityunjaya mantra along with Rudram namakam and chamakam recited by learned Vedic Pandits.

Shiva is the pristine most gods ever worshiped by humans since time primeval. Shiva is the symbol of auspiciousness and positivity and the emblem of pureness and kindness. The occasion of Shravan Month Shiv Puja or Maha Shivratri or every month of Shiv Chaturdashi is a special month to get your desired fulfilled by the grace of God Shiva. By performing a special Shiva puja with the abhishekam (with different articles) during Maha Nishitha Kaala on this special day with the procedures stipulatedin the scriptures one is certain to achieve success on Maha Shivratri.
Activities for Shiv Puja
Poorva Karma (Ganesh Pujan, Matra Pujan, Abhyudaya, Punya Wachan, Kalash Sthapana, Raksha vidhan, Navgrah Puja)
Puja of God Shiva (as per auspicious Muhurta)
Ashtottara Namavali Path, Shiva Stotra path
Rudra Abhishek
Prayer and Arti of God Shiva
Benefits of Shiva Pujan and Abhishek
One attracts positivity to his life and atmospheres.
Most of the planetary doshas get remedy.
It is the best time to burn out the accumulated negative karmas.
One gets rid of long-lasting health issues with the grace of Mrityunjaya.
The spiritual quotient in the life is improved.
One is surely blessed with progeny and their children are also blessed.
One gets better relief from Pitru dosha by doing Shiva abhishekam.
Customer Care
If you have any query or need further clarification