Store Room
Northwest region of the house is the ideal place for a store room for keeping food grains. This ensures their regular supply. The articles of daily use should be stored in the Northwest corner. The store should always be kept clean and its doors and windows should be in the North and east. Clutter free store rooms ensure the continuous availability of food grains in the house and their scarcity is not felt.
Store for keeping heavy machines, wood, tools etc. should be in the Southwest of the house in an open place or in the Southwest corner of the house. If the store has to be made in an open area in the Southwest of the house, then it should be made between the main house and the Southwest corner, supported by the boundary.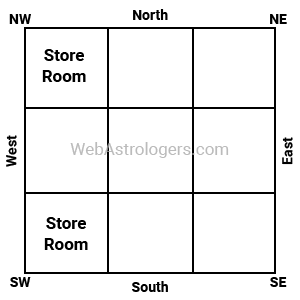 Location of Store Room
Heavy articles should be placed here. There should be no crack or water leakage in the wall or in the roof of this store. This room should never be rented out. There should be no door in the Southwest.
In case of a small family having one store room either in the Northwest or Southwest.
Heavy articles and trunks should be placed in South and West
Food articles in the North and West
Oils, ghee, gas cylinder and Kerosene etc. in the Southeast corner
Some other Considerations
Containers of food grains should never become totally empty. Till new supply comes, some food should be left in it
The door of the store should be made in an auspicious grid in the North and East direction
Store for the useless heavy articles should be made in the Nairritya (SW) region. There should be no dampness or leakage in the store