Vastu and Diseases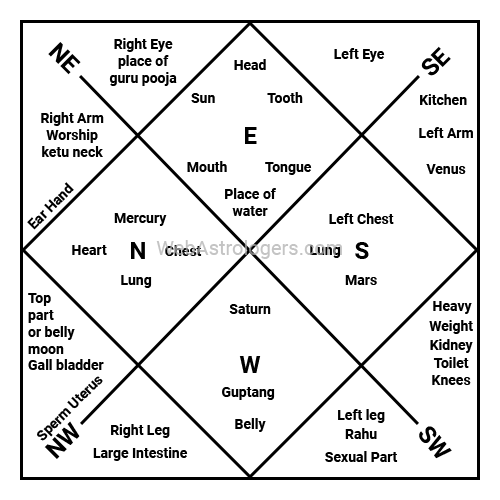 In Vastu shastra different planets represent different directions. Each direction influences some body parts of the kalpurush. Like Astrology Vastu is also controlled by the power of planets and Nakshatras. Just as Astrology helps us in understanding the disease the person may be suffering from. Vastu also helps us in understanding the ailments of the person on the basis of the afflicted directions.
Vastu also helps us in pinpointing the affected body part. It even helps us in understanding which disease will affect most of the people living in the house. For example if North wall of the house is higher and there is toilet in that direction, then most people living in that house will suffer from ailments related to heart, lungs and sudden chest related problems.
Similarly it has been observed that if East direction of the house is afflicted, then most of the people living in the house are sickly. With indepth study of the principles of Vastu we can identify the diseases caused by the afflicted directions in advance and take corrective measures to protect the resident from them. An effective guideline can be made out to make the residents healthy, happy and peaceful.