Bathroom
The ideal place for the bathroom is in the east direction. The bathroom should not be made either in the centre of the house or in the Southeast or in the South direction. The bathroom should never be made under the staircase. The staircase is ruled by Mercury while the bathroom is ruled by Moon because of its connection with water. Due to the enmity between Mercury and Moon it is the most Inauspicious to have a bathroom under the stairs.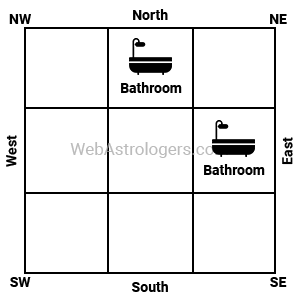 Location of Bathroom
The slope of the bathroom floor should be towards Northeast and the water should flow out towards the Northeast or towards North or East. The taps, shower, fountain etc. should be in the North or in the east. The bath tub should also be in the same directions, the geyser can be in the Southeast corner.
Mirror and the wash basin should be on the North or East wall. Any mirror in the bathroom should be on these walls only.
If a dressing or changing room is to be made in the bathroom itself then it should be made in the South or West direction.
A place for washing clothes can be in the Northwest region of the bathroom. However the washing machine can be placed in the Northwest or the Southeast corner.
The windows of the bathroom should be made in the North or in the East at a height. The door should not be in the Southwest direction. It should be in the East or in the North. If needed, it can even be kept in the West or South but not in the Southwest corner. It should be made in a beneficial grid.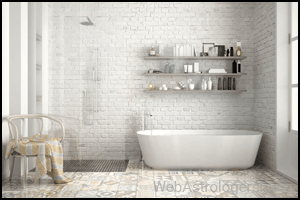 Bathroom
The walls should be painted in pleasant colours like light blue or white or other light colours.
If a bathroom along with the toilet has to be made adjoining the bedroom then it should be made towards its North-West. It should not be made towards its Northeast or Southwest.
Crack in the bathroom door, bad smell and leaking taps in the bathroom bring about financial losses, so these should be prevented and repaired.
Above picture represents an ideal bathroom where the mirror and taps are in the north and the shower is in the Northeast.