Feng Shui
The Five thousand year old Feng Shui has played an important role in Chinese and Japanese culture and has enhanced their progress. Now Feng Shui is becoming popular all over the world due to its effective results. Wherever it is not possible to apply the remedies suggested by Vastu, there we can take the help of Fengshui. With the use of Fengshui items. we can balance the defective location and bring there the balance of elements taking Into account the need of particular element or elements.
Vastu Shastra in Chinese language is called Feng Shui, which is a combination of two words (wind-water). A literal translation of these words is wind and water. According to their geographical location, the Chinese consider water, fire, earth, wood and metal to be the pancha tatvas.
In Fengshui the pancha tatvas or the five elements have special importance and they also represent certain directions.
Elements and Lords of Directions
Elements
Lords of Directions
Wood
East
Metal
West
Water
North
Fire
South
Earth
South-West
Achieving a healthy, wealthy, and prosperous life through proper utilization of the natural energies flowing around us is the basic principle of Feng shui. This is a mysterious Chinese art which is based on the principle of Tao. This harmonizes our personal environment. The main original text of Feng shui is in Chinese language. It has been translated into English and then into Hindi and many other languages. The origin of Feng Shui can be traced back to India, and it happens to be our Vastu shastra only. It travelled through Tibet to China where it was popularized. Feng Shui is greatly influenced by Indian culture, especially by Buddhism.
The Chinese corelate the honour or dishonour attained in this human life to the energies generated on the earth. They do not give much importance to human performance or action. Prosperity, good health and god's blessings, all the three are related to the wind and water of the world.
Certain invisible powers are active in the world. The modern science calls then gravitational force and electromagnetic force. Because of these forces energy keeps flowing on the earth continuously. In Chinese this flow of energy is called 'Qi'. This energy is classified into two forms, Yin, the negative (-) energy and yang the positive (+) energy. Both yin and yang have their own gravitational forces and are complementary to each other. Independently they are incomplete. Their forces are basically Geological positive and negative forces. These forces can be detected with the help of a magnetic compass.
Yin and Yang are forces of two opposite elements and are the binding forces of the entire universe. Yin is female while Yang is male. Yin represents darkness while yang represents the sensitive sunlight. According to the Chinese doctors Yin is active within the body while Yang is active outside the body. When there is some disease in the body then it affects the yin yang balance of the body. Balance of Yin and Yang is necessary for keeping the body healthy because these two are also the magnetic force of the human body.
The human 'Qi' gives man intelligence, wisdom, strength, power and physical capability. It becomes necessary to co-ordinate the construction of the house with internal decoration, furniture, paintings, curtains and other utility items, so that a good balance of Qi is maintained between man and his living surroundings, along with their correlation with the earth's forces.
According to the Chinese philosophy the entire universe is operated and maintained by Yin and Yang. They control different directions and have their own effects, which are as follows -
Yin and Yang effects
Yin - Female Force
Yang - Male Force
Negative
Positive
Inactive
Active
Cool colours
Warm Colours
Darkness
Brightness
Night
Day
Moon
Sun
Shadow
Light
Soft Materials
Hard Materials
Fixed Tendency
Movable Tendency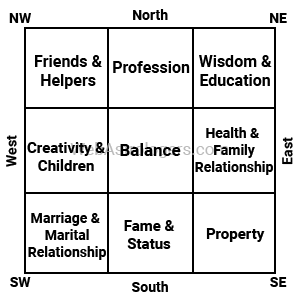 Five Main Elements of Fengshui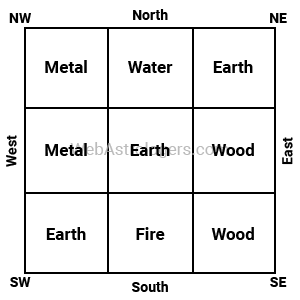 Direction and Aspect of Life
Five elements of Fengshui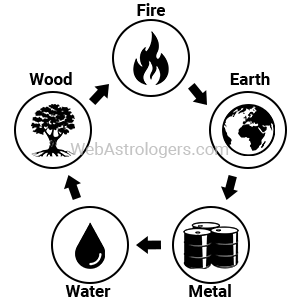 Five Elements
According to the Chinese philosophy the entire universe is composed of five basic elements Fire, Water, Wood, Metal and Earth. Along with being the forces of the universe, these elements also represent their complex interdependence and their delicate precarious balance. Persons who maintain the balance of five elements, lead happy and peaceful lives and those who cannot or do not maintain this balance suffer throughout their lives.
Wood
Wood represents nourishment, family mentality and flexibility. It is generally connected to progress. People supported by wood are energetic. They are creators of new concepts and ideas and are also successful because of their impressive personality. They are inclined towards art. As opposed to this, people who are either not supported by wood or opposed by it are impatient and easily angered. They are not able to complete any project which they have started.
The direction of this element is East. Its colour is green. Its shape is straight and rectangular. Its season is spring and it is an indicator of the growth of plants and vegetation.
Fire
An environment charged with fire energy gives a person inspiration, encouragement and enthusiasm and makes him intelligent and wise. This can also bring light, warmth and happiness in the person's life. On the negative side, it can even cause a fire, explosion or destruction. Fire element can give honour and justice. On the other hand it can support attacks and wars. People supported by fire element are generally leaders and politicians and are very active. Positive support of this element makes a person active, jovial and patient. People opposed by this element are unrestrained exploiters and selfish. Direction of this element is South, its colour is red, its shape is triangular and its season is summer. This element provides maximum prosperity in Summer or is most productive in summer.
Earth
People supported by this element enjoy nurturing and helping others. They are dependable, faithful, duty conscious, kind and gentle. If under the adverse influence of this element, they can be temperamental and tense regarding minor matters. At the same time they can even exploit and hurt others.
Location of this element is in the centre, its colour is yellow, its shape is square and dense and its influence remains throughout the year.
Metal
Metal element is connected to abundance and materialistic success. It also shows clear cut thinking and awareness of widespread knowledge. People supported by this element are forerunners in future planning and they perform their best in beautiful environment enjoying it thoroughly. They are good managers. They are very serious and patient and rarely agree to help others. The direction of this element is West, its colour is golden and white and its shape is round or rolling pin shaped. Its season is autumn. During autumn, the wood element becomes weak and metal destroys it and becomes strong.
Water
Water element represents social interaction, telecommunication and intellectuality. It is sensitive due to internal inspiration. Water element represents introversion, art and beauty. People supported by this element are interested in learning and spirituality. Peopie dominated by this element earn their livelihood through intelligence, knowledge, wisdom and education etc. They are well behaved, peace loving, social and helpful, basically with a good and sensitive heart. In addition they are able to understand other persons' mentality and get their work done tactfully. They even take risks and strike beneficial agreements and contracts. Its direction is North, its colour is black and blue, its shape is like a wave and its season is winter. It is more powerful at the time of snowfall.
Difference between Fengshui and Vastu
China is situated in the extreme East of Asia. Icy cold Mongolian desert is towards its North and vast open Pacific ocean is towards its East. Icy cold wind blows from the North bringing in yellow deserts and for this reason North is not considered auspicious in China and it is not considered good to have doors and windows opening towards the North. Even veranda in North is not considered good. Pleasant sea breeze blows in from the East and the South during summer, so East and South directions are considered auspicious there. In contrast to this vastu considers North to be auspicious.
Similarities between Fengshui and Vastu
In both systems East is considered to be auspicious. Importance is given to the five elements ono to their own Astrology. In both systems man has been balanced with nature. Northeast is related to knowledge and education by both. Red colour has been gives to South direction by both the schools and both have kept benefit of mankind as their primary motive. Remedies of both the schools produce auspicious results.
Principle Concerning Bagua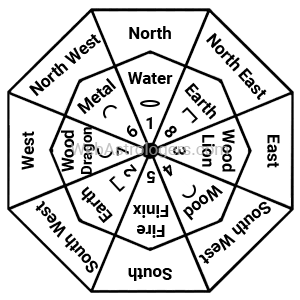 Bagua
Bagua is an octagonal chart. In Chinese language Bagua means Eight sided which shows the eight directions of the compass. Every direction of the compass controls different aspects of life, like profession, wisdom, health, money, fame, marriage, children and helpers. Centre of the bagua is called Taichi which represents yin and Yang in a circle. This is a symbol of completeness and totality and reminds us that balance is necessary.
Knowledge of different directions of the compass, their speciality and the areas influenced by them, helps us to modify the surroundings to remedy the defects and to enhance the results to fulfil our aims.
South
This direction controls the status, fame, destiny and the celebrations. The season of South is summer, colour is red, number is 9, base element is fire, animal is the immortal imaginary bird Amarpakshi.
North
North represents professional success. It is an important direction for achievement of professional aims. The season is winter, colour is black, element is water, number is one and the animal is tortoise, on account of his hard and strong shell. The tortoise represents stability, protection, and long life.
East
East controls health, intelligence and family life. Its season is spring, colour is green and light blue, element is wood, number is three and animal is the powerful inspiration giving kaliya winged serpent.
West
Represents children, destiny, happiness and creativity. Its season is autumn, colour is white, element is metal, number is seven and animal is the dreadful white tiger.
Southeast
Though half of the directions of the compass promise wealth, Southeast is the most powerful and obvious direction for wealth. Its season is spring, element is wood, number is four and colour is purple or violet.
Southwest
This direction represents marriage, relations, partnerships and motherhood. If you are looking for a good business partner or want to strengthen some professional contact, then you should activate this direction. Its season is summer, colour yellow, element Earth and its number is two.
Northeast
If you want to educate yourself more or to improve your intellectual ability, then you should activate this direction. Green colour is for expansion and blue is for high aspirations. Combination of the two is sea green, which is the most effective colour in this direction. Its season is winter, element Earth and number is eight. In Chinese culture, number eight represents prosperity.
Northwest
If you are attracted to distant places, or if your interest takes you away from house environment then you should enhance or activate this direction. If you wish to spread your business out of your city or outside the country at an international level, then you should expand the Northwest corner of your office or work premises through the means of Feng Shui. This direction represents fatherhood, benefactors, advisors and your other helpers. Its season is autumn, element hard metal, colour grey and number is six.
Cycles of Creation and Destruction
The universe is composed of five basic elements namely fire, water, wood, metal and Earth. These five elements represent the nature's forces, their inter dependence and their precarious delicate balance. If these five elements are utilised according to the correct and appropriate balance, then they assist our all over development and progress in the desired manner. But if they are utilised in an inappropriate balance, then they can destroy everything.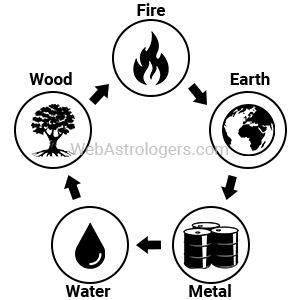 Cycle of Creation
Cycle of Creation
The figure below shows the constructive creative cycle - Wood lights fire. Fire produces ash which makes earth - Earth produces metals, Vapour appears on the surface of metal and this produces water - Water produces plants and trees which produce wood. When the cycle moves in this direction it promotes progress. Here each element complements the other.
Cycle of Destruction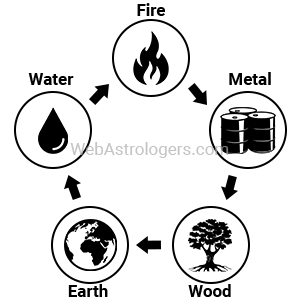 Cycle of Destruction
When these elements are combined in the opposite manner, they hinder each other's progress, density and influence; then the cycle becomes destructive. Water puts out the fire, fire melts the metal, metal cuts wood, wood takes nourishment from earth and water makes the earth muddy and boggy. Here a disbalance and confusion is created between the elements and they go haywire and the cycle of destruction is complete. No element is destructive by itself. In fact all are essential for our environment.
These cycles become important guidelines for making fine improvements in our surroundings. For instance an aquarium should not be placed along the South wall. Element of South is fire. Water will destroy the influence of fire. Similarly a brown decorative article or terracotta pot should not be placed in the Northern part of the work place or office. North represents water. Earth element or terracotta or brown article can affect your professional opportunities and success adversely.
Rectifying Vastu Doshas without demolition
Correct Direction
Placing articles in their proper position and proper direction can give some relief. For example if kitchen is made in the wrong direction, then by placing articles of the kitchen like gas stove etc. in their proper direction can provide relief. Similarly if boring is in the Agneya, it is in the wrong direction. In this situation, by installing the electric meter in the Agneya and by turning the water towards East or towards Ishan can counter act the water dosha of the house.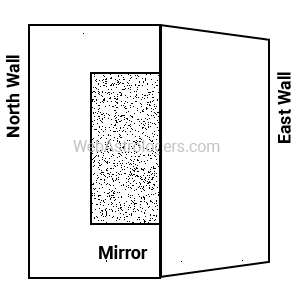 Mirrors
Mirror is very important from the point of Vastu, because it has the power to reflect back an external vastu related flaw. Mirror enhances the internal beauty and gives protection. Mirror should always be placed in the North or East. It is the most beneficial in these positions. A person normally gets enthusiasm in front of a mirror. A mirror in the North or East produces financial gains. If there is no door or window in the North or East, then mirror placed in these directions can work like a door or window or ventilator. A mirror in the North creates an imaginary reflection of itself in the Northeast, which opens avenues of income, gains and wealth. Additionally a mirror on the eastern wall gives happiness from children.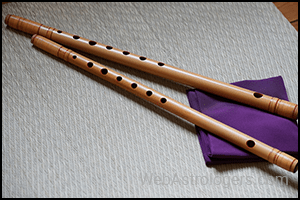 Bamboo and Flutes
Bamboo has an important religious significance in China and in central Asia. A flute made from bamboo gives peace, good news, permanence and stability. It has been assumed that the holes made in the flute one after another protect the floors of the building made one above another. To protect the area under a beam, two hollow bamboo sticks can be placed in a slanting manner with their opening towards each other. Silk tassels can be attached to these bamboos. If a flute has to be used then it should be wrapped in a red cloth and its mouth should face down ward. According to the religious belief when a flute is held in hand and shaken then evil sprits run away. When it is played then micro cosmos sound waves enter the house.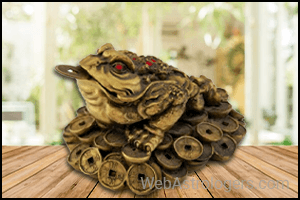 Three Legged Frog
It is a belief in China that if the entire frog family lives behind your house, then you will be protected from all kinds of dangers and misfortune. A three legged jumping frog with a coin in his mouth brings in wealth but it should be placed correctly. It should always be placed inside the house or the office, otherwise the money can even go out of the house. It can even be placed under the sofa or inside a cupboard. It is forbidden to keep it in the temple, bathroom, bedroom or in the kitchen.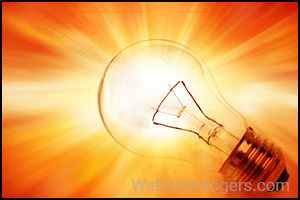 Bright Bulb
Bright light is very important for correction of Vastu defects, it can improve the environment. It can turn an L shaped house into a square. Bright light behaves like sunlight which brightens the whole house inside and outside. Darkness signifies misfortune, misery and sadness while brightness signifies good fortune and happiness. According to vastu if Eastern part or Ishan of the house is always bright or brightly lit then the Gods keep blessing that house.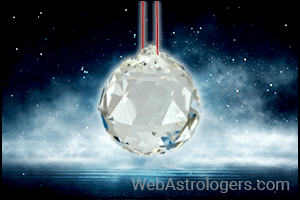 Crystal Ball
Crystal ball plays a prominent role in removing the vastu dosha by circulating positive energy in the whole house. A pair of crystal balls are hanged to increase the harmony between husband and wife.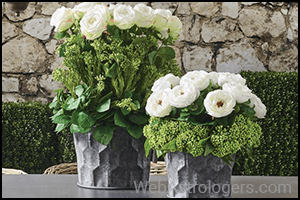 Trees and Bouquets
Trees, plants and bouquets are beautiful gifts of naturefull of life. They not only give us oxygen, they also beautify the house. They play an extremely important role in curing diseases, improving health and rectifying vastu doshas.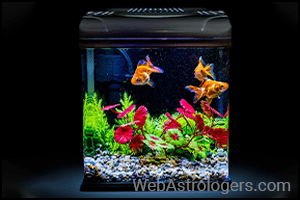 Aquarium
Aquarium also signifies life force and is a gift of nature. The air bubbles rising in the aquarium indicate life force. These bubbles usher in wealth. if water element is lacking in the house then placing an aquarium or a fountain or a picture of water in the North is auspicious.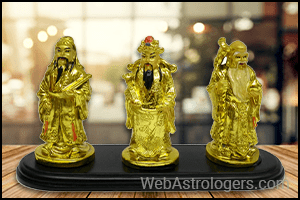 Heavy Electrical Appliances
Sometimes placing heavy electrical motors, washing machine, refrigerator and television etc. in the correct place improves and maintains the digestive power and energy level of the family members.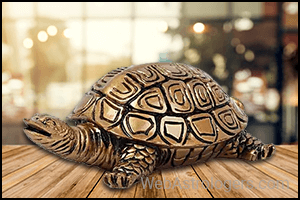 Tortoise
Keeping a live tortoise or placing a statue or a picture of tortoise in the North direction of the house promotes happiness and prosperity. The face of the tortoise should be towards East. It also enhances longevity. Having a live tortoise in the North in a pond or a tub of water is beneficial for the prosperity and the longevity of the family members.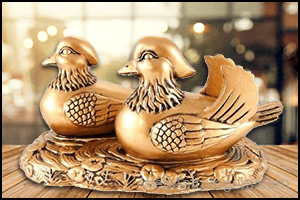 Mandarin Ducks
By placing a pair of Mandarin ducks in the Southwest corner of the bedroom, peace and harmony develops between the husband and wife. Their relationship becomes lovable and their lives are filled with happiness. These ducks can also work as a remedy in the case of delay in marriage. If a pair of Mandarin ducks is placed on a wooden stool in the Southwest corner of the room of the marriageable boy or girl, then it gives quick results.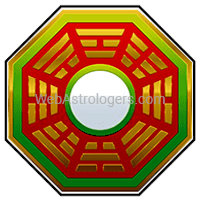 Pakua Mirror
Pakua Mirror is fixed on the main door when the house is getting vedha from some house, temple or a church. Pakua gives protection. If the back door is also getting such a vedha, the pakua should be fixed on the back door also. Both the doors will get protected. It should be placed on the centre of the main door.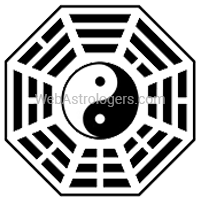 Bagua
This is similar to Pakua. In the centre of Bagua there is yin and Yang symbol instead of a mirror. This is hung on the door of the master bedroom with a red string. Bagua does not allow negative energy to enter the house and the bedroom. It also does not allow positive energy to leave the house.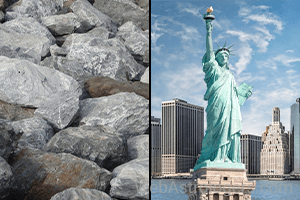 Heavy stones and Statues
Sometimes heavy stones, rocks or statues are used to make certain corners and directions heavy. Sometimes separation between husband and wife, instability and problems of constant travel can be solved by putting weight in certain directions and corners.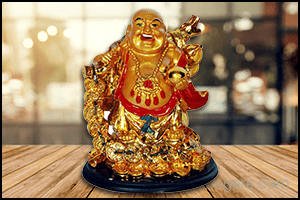 Laughing Buddha
Placing laughing Buddha with a bag full of money on his shoulder in the Northwest direction fills the entire house will prosperity and happiness. Along with this a beautiful chandelier should be hung in the Southwest corner.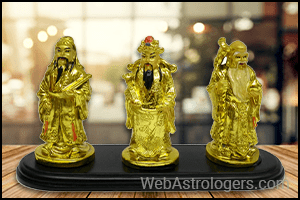 Celestial Animals
Four celestial animals represent the four directions. Their forms or pictures can be placed on the walls of the drawing room in their respective directions. This nullifies the vastu dosha inside the house.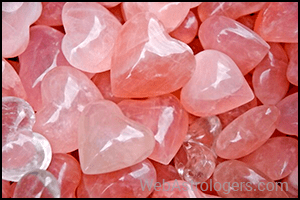 Rose Quartz
Rose Quartz are quite useful for the unmarried boys and girls who wish to get married soon. The boys and girls whose marriage is delayed should place rose quartz in the Southwest of their room. Opportunities of marriage will arrive soon.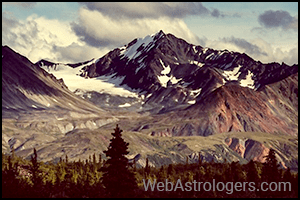 Picture of the Mountains
Mountains are the symbol of strength and stability. If the pictures of mountains are hanged, they signify allround well being. Stability, confidence and strength can be acquired by placing a picture of the mountains (without lakes, rivers or streams) on the Southwest wall.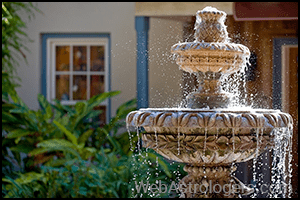 Fountains
In large houses, multistoried building or commercial buildings, ponds and fountains are made to reduce or remove vastu doshas. Fountains which signify money inflow are arranged very carefully. If outflow of water is not in the right manner, then all the money of the house can go to the wrong way.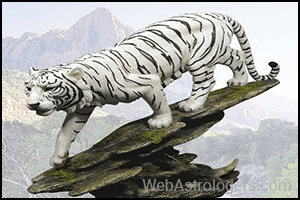 White Tiger
White tigers are the symbol of courage, adventre and strength. In order to get rid White Tiger of enemies or to nullify the effects of black magic, evil eye and evil practices, the picture of white tiger should be hanged on the West wall.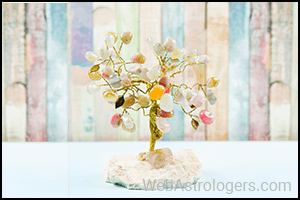 Gem Stone Tree
The gem stone tree should be placed in the Southwest or Northeast for generating positive energy in the house. For financial gains and wealth, a tree with topaz, emerald, rubies and margaj should be placed in the Northeast. For enhancing good fortune a tree with all types of gems should be placed in the Southwest.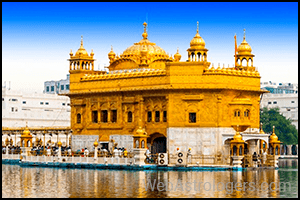 Golden Temple
Golden temple is considered quiet auspicious and is emblem of progress and prosperity. Placing a picture of the golden temple in the Northeast promotes prosperity and happiness.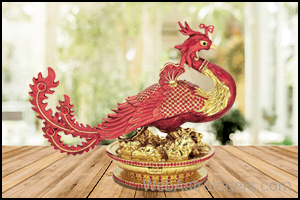 Phoenix
Phoenix indicates courage and valour. In order to surmount the infathomable, the picture of phoenix should be used. Strength and stability can be acquired by placing the red phoneix on the South wall.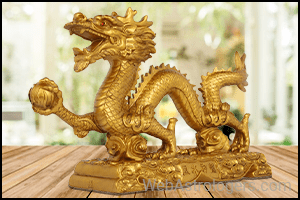 Dragon
Dragon is the auspicious symbol in Fengshui used by the in Chinese culture and tradition. Prosperity and purity can be achieved by placing a green wooden dragon on the eastern wall.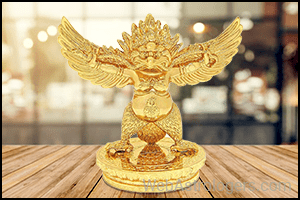 Garuda
In Indian mythology, Garuda is considered to be the vehicle of Kuber, the lord of wealth. It is supposed that strength and stability is achieved by placing a picture of Garuda on the southern wall.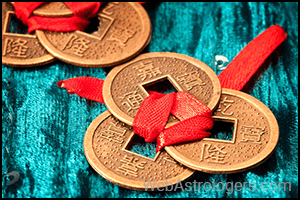 Lucky Coins
The three Chinese lucky coins should be kept in the purse for financial gains. If they are kept in the cash memo, they increase the number of orders. It is also considered auspicious to hang them on the door handle.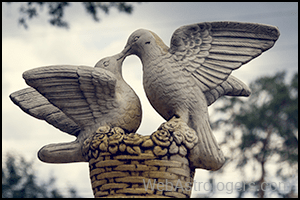 Love Birds
Love birds are the symbol of immense love and harmony between husband and wife and lovers. These are placed in the bedroom of husband and wife to make their relationship sweet and happy.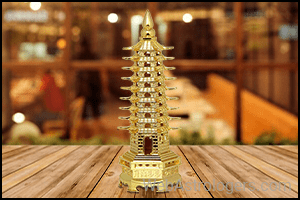 Education Tower
Placing an education tower on the study table of a student helps him climb up the ladder of success in the field of education. He is able to concentrate well. His determination and desire to study becomes strong and his logic increases. He gets the inspiration to study.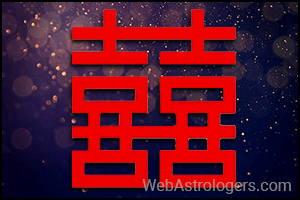 Symbol of Double Happiness
This symbol inculcates peace and happiness if kept in any house. Placing this symbol in the Southwest of the house ushers in many happy and auspicious events. Marriageable boys and girls also get married.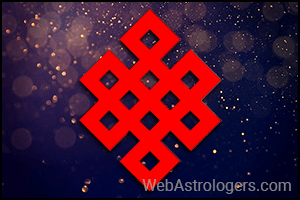 Mystic Knot Symbol
Mystic knot symbol is a mysterious portrayal of an image where there is neither any beginning nor the end. It is not possible to make out the beginning and the end of this knot. Placing it in the North of the house or the office gives good health and financial gains.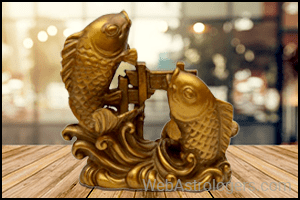 Golden Fish
In Fengshui Golden fish are the imaginary symbol of wealth and prosperity and used quite frequently in all the Chinese house holds. Golden fish promotes wealth and prosperity. It should be placed in the North direction facing East. Fish is considered to be the Matsya Avatar of Lord Vishnu.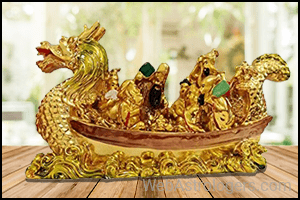 Dragon Faced Boat
Dragon faced boat is the symbol of unity in diversity and harmony amongst the members. For keeping good relationship and unity among the family members, this boat should be placed in the Southwest corner.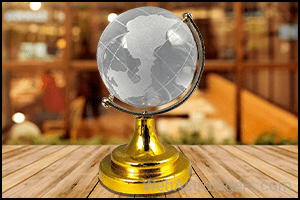 Crystal Globe
Crystal globe should be kept in the house or in the work place in such a way that it faces you. It should be turned around at least thrice a day. It will be beneficial for career and business. It also promotes education and knowledge.
Other Remedies of Vastu and Feng Shui
• Fixing a nine pyramid yantra on the door removes Dwar Dosha.
• If three doors are in a row in a house or in any vastu, then hanging a crystal ball in the centre of the door removes this defect.
• A small aquarium of golden fish in the house enhances good fortune of the house. It can be kept in the North or in the East.
• For developing pleasant relations in the family, a group photograph of the entire family in a happy mood should be hung in the house.
• Swabbing the house with salt water helps in removing the negative energy from the house.
• Place a ceramic bowl full of sea salt in the toilet. It can remove the dosha of a toilet made in the wrong direction.
• Place a globe in the Northeast for education and knowledge. Hang pictures of great personalities in the children's room.
• Hang a picture of mountains (without water) in the Southwest.
• Place love birds in the Southwest.
• Keep Chinese lucky coins in your pocket for financial prosperity. Fix three of these coins on the money box.
• Horse shoe is considered to be very lucky and auspicious in India. It enhances good fortune or Saubhagya. For getting protection and good fortune, the horse shoe should be fixed in the centre of the frame (door sill) of the main door. It should never be fixed on the door in the East and Southeast direction. It should be fixed on the doors in the West, Northwest or North direction. This would be beneficial. The horse shoe should always be placed like a U.
• For reducing the dosha of a beam in a room, two flutes should be tied with red ribbon and fixed at an angle of 45° on both sides of the beam.
• Sacred Tulsi plant, which is a symbol of good health should be placed on both sides of the main door. Main door is that part of the house through which all the beneficial and harmful energy enters the house. Placing Tulsi plants on both sides of it, attracts the guests and increases the grandeur, majesty and prosperity of the persons living within.
• For success and prosperity, keep a gem stone tree in the Northeast of your sitting room.
• For stability and status, use red colour in the Southern part of the house and decorate it with red articles.
• Picture of Shri Krishna removes Vastu dosha and brings in happiness.
• For marital happiness, keep a picture of Krishna ji playing his murali accompanied by Radha ji and a peacock. The peacock feather of Krishna ji's crown is also a symbol of happiness.
• If there is some obstruction like a pole or a tree in front of the main door then fix a pakua mirror to remove this dosha.
• Never keep papers related to any dispute in the Agneya (Southeast) direction. They should be kept in the Ishan or in the Northern Vayavya.
• Place a clock either in the North or in the East.
• If there are thefts in the house regularly, then Mangal yantra should be installed. If there are riots, uproars and disasters in the house then Bhaya keelak yantra should be installed.
• In the houses, in which Ishan kona is reduced or cut or afflicted, it is beneficial to carry out this remedy. Fill a copper pot (Iota) with water, cover it with a silver bowl (katori) and keep four pearls in it. Every morning rub and wash the Iota and katori and fill the Iota with fresh water.
• If the cooking stove of the house is in the Ishan and it is impossible to remove it due to circumstances then light a red bulb in the Agneya and always keep a plate full of water under the stove.
• Maruti yantra is the yantra of Hanuman ji, son of Maruti. There are many uses of this yantra. One of these is a very popular use related to vastu. If somebody's land is not getting sold or if his land is under some dispute, then he should take this yantra and go to his land on a Tuesday at 12 noon. He should face East and bury the yantra in the ground. The owner should himself dig a pit of 11/4' length of the land in the East or Northeast and then bury the yantra and pour milk and Ganga Jala over it. The dispute will get resolved within three months and the land will be sold for a good price.
• The houses in which there is some kind of constraint, progress has come to a stand still and no amount of effort is relieving the situation, then they should hang a lemon and green chillies on the main door on Saturdays. Slowly the constraint will ease away.