Study Room
The ideal location for the study room is in the West direction. Saraswati Ji who is the goddess of education resides in this direction. Apart from this, the study can also be made in the North, east and the Ishan kona. The students should face either East or North while studying. Their chair must be behind the wall and there shouldn't be any glass or mirror reflecting the image because this create tension in the mind of children and they don't concentrate in their studies.
Mercury the planet for intelligence and mental awareness, Jupiter the planet for knowledge and wisdom and Sun the natural Atmakarak rule the North, North-East and the East direction respectively. Hence it is beneficial to have the study room in these directions. Study room for children with weak Mercury and weak Jupiter should be made in the North or the Ishan region. Study room for lazy children should be made in the East. The study should never be made in the Northwest or Southwest.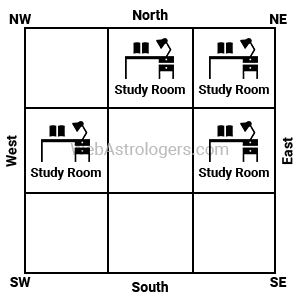 Location of Study Room
Facing East while studying makes the children brilliant.
Book rack and small cupboard for books should be placed in the North or the East. If these are placed in the Northwest, then the books may get stolen. If placed in the Southwest then they will not be frequently used. So North or East is the best place for them.
Door for the study room should be in the Northeast or in the West. The windows should be on the Eastern, Western or Northern wall. The door and window should not be in the Southeast, Northwest or Southwest corner.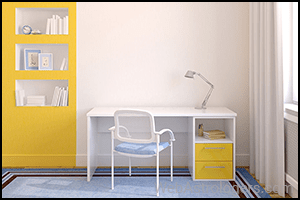 Study Room
The study room should be painted in light auspicious colours. The curtains can be of light cream, light blue or light green colours. Light green walls and curtains are best suited for children who are lacking in concentration and in mental awareness.
It is not wise to study under an exposed beam. This adversely affects the power of concentration. A solid wall should be behind the child's back to give him-self confidence.
The Northeast corner or the study room being the Ishan should be open, clean and lighted as much as possible to get the child, the maximum blessings of God. Saraswati yantra should be placed in Ishan Kona and a picture of Goddess Saraswati should be installed on the Eastern wall. Beautiful flowers should be offered to Saraswati ji.
The study table should be kept free from clutter. An education tower and a pyramid placed on the table is a great help in proper concentration during study.