Remedies of Indian Vedic Astrology
We discussed different types of remedies in previous chapters. Actually, there are various map to propitiate gods and planets. Even different types of remedies are prescribed for different purposes. The Astrologer should select some of the remedies and suggest to the client to perform them With full faith and devotion for their well-being.
It was a difficult task to produce a subject like the analysis of remedies. A book on Tantra, Mantra, gems and religious and spiritual exercises was in demand for quite some time.
The task was something like "to express too much in very words." The book has been written for both the astrologers and the students of astrology. I hope, it will prove to be useful to attain joyful living through remedies of Astrological Science.
A doctor prescribes medicines to a patient seeing his test report. If a medicine does not suit him, the doctor changes it. But it does not mean that the medicine prescribed was useless. However, it did not prove useful to the patient it was given to. For that matter the entire medical science cannot be established wrong. Likewise, an astrologer prescribes remedy to a person on the basis of his horoscope. But we cannot establish astrology wrong if the remedy prescribed to the native does not prove to be useful to him. A disease can be cured without medicine also, but there is no cure for death. Remedies prescribed on the basis of astrology for different diseases and afflictions acts like a substitute. It depends on the quality of the materials of remedy prescribed as to how much will it be effective. Gems prescribed must be pure and flawless. No better result can be expected from a defective and fake gem. Materials and Rudrakshas to be used in Tantrik system must also be genuine and flawless. Mantrochar must be performed correctly. It is essential to have faith in worship and religious rites. In case the Yantras are used, they have to be pure and consecrated. One should have faith in contemplation of God - this proves to be very useful.
Jaki Rahi Bhavana jaisi, Prabhu Murat Dekhi Tin Taisi.
A person visualises the God according to his/her own thought and perception.
Only those who have faith on astrology can take benefit from it.
Sakala Padaratha hai Jag Mahi, Karmaheena Nar Pavat Nahin.
Everything is present in this world and the worthy persons are capable of achieving everything but unworthy persons do not perform their duties duly and complain that they are not getting anything due to the curse of God.
Important Remedies for major diseases
To ward off diseases
Wear the gem of Ascendant.
Perform Jap of Mrityunjaya.
For Progeny
Perform worship of Santana Gopal Yantra.
Perform worship of Jupiter.
Recite Gopala Sahasranam.
Listen to Harivansha Purana if Sun is obstructing.
Perform worship of lord Shiva, if Moon is obstructing.
Perform consecration of lord Shiva (Rudrabhishek), if Mars is obstructing.
Donate a bronze utensil, if Mercury is obstructing.
Perform Shraddha at Gaya, if Jupiter is obstructing.
Serve cow, if Venus is obstructing.
Perform Jap of Mahamrityunjay, if Saturn is obstructing.
Perform Kanyadan, if Rahu is obstructing.
Offer a white- grey coloured cow (Gaudana of a Kapila Gay) to some body, if Ketu is obstructing.
For Marriage
Perform worship of Shiva-Parvati.
Perform worship of Venus.
Worship of lord of seventh house.
Worship Jupiter.
For Love Marriage
Wear the gem of the lord of fifth house.
Worship the lord of fifth and seventh houses.
Worship Venus.
For Gaining Knowledge
Worship Shree Saraswati Yantra.
Wear the gem of the lord of fifth house.
For Service
Wear the gem of the lord of ninth house (Bhagyesh).
Perform worship of Sun.
To Be Free From Debt
Worship Shree Rina Mukti Beesa Yantra.
Worship the lord of sixth house.
For Dispute and Agonies Caused by Evil Spirits
Worship lord Hanuman.
Install an Indrajala.
Worship Bandhan Mukti Yantra.
Fix the auspicious mark of Swastik at the gate of your house.
Example
Example 1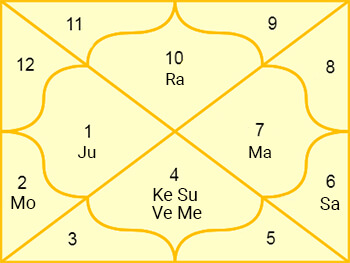 Example Horoscope 1
Venus, the lord of fifth house is combust in this horoscope. Sub-period of Venus in the major period of Jupiter started on 4.11.99 and continued up to 5.7.2002. For this horoscope, Jupiter is malefic and Venus is combust despite being Yogakaraka and is afflicted by Rahu and Ketu. Being combust, a Yogakaraka planet does not render good results. So, the relation of this native with his wife turned bitter. His son started disobeying him, as Venus is the lord of fifth house in his horoscope. Hustles cropped up in his trade and business, as Venus is the lord of tenth house. He started thinking of suicide. In these circumstances, he sought advice from me. Mentally, he was so perturbed that he turned against worship and religious rites. No remedy can be advised to a native of this sort. I advised him to wear diamond to pacify evil effect of Venus. The native was unable to buy diamond, so he was said to wear zircon. I advised him to wear red banian under his shirt to propitiate Jupiter. He was asked to remove immediately the broken toys from his house. There is the burden of Stree Rina and Nirdayi Rina on the native since there is Rina of previous birth in the horoscope. Remedies from Lal Kitab was advised to wash away all these Rins. By adopting all these remedies, the native recovered fast from tensions and became happy in a short span of 15 days.
Example 2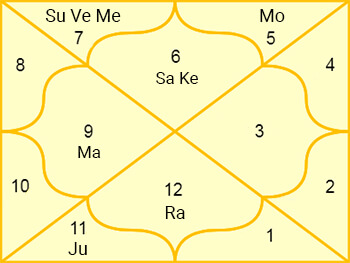 Example Horoscope 2
In this horoscope, the sub period of Saturn in the main period of Rahu started on 31.8.99 and continued up to 7.7.2002. Saturn, being Yogakaraka, is posited in Lagna, but is afflicted by Rahu-Ketu. So, the native will have results both fovourable and unfavourable. The native sought advice from me in March 2002. I told him that the time was not favourable to him. He might have to face obstacles caused by his younger brother, wife and he would also face hurdles in business. His son might suffer since Saturn was the lord of fifth house. There is Anshik Kala Sarp Yoga also in the horoscope. In the Dasha of Rahu and Ketu, Anshik Kala Sarp Yoga also puts its effect. I advised the native to perform worship of Kala Sarp Yoga Yantra and Jap of Om namah Shivay for 21,000 times. I also asked him to make offerings to propitiate
Saturn. The native took the Kala Sarp Yoga Yantra to worship but did not make any offering to propitiate Saturn. Despite knowing that the entire universe is bound by destiny, he did not adopt the remedies. The younger brother suffered heart attack but escaped it. His son met an accident and he had to spend 60,000 rupees on his treatment. The wife started spending all the time with her son and the family got scattered. The native could not look after his business due to his diseased brother and son that caused him loss. At last, he made offerings to propitiate Saturn and donated things related to Saturn.