Vastu for Educational Institution
Educational institution is a learning abode where a person acquires knowledge and education which helps him in building his character, personality and his behavioural values. So it is of prime importance to construct such an important institution in an appropriate way. Vastu principles are followed in its construction, the students and teachers both can be benefited by this learning centre.
Educational institution gives auspicious results if made in North or North East direction, because Jupiter, the lord of knowledge and education, Mercury the lord of mental vitality rule these directions. So the person who studies in this institution gets name and fame in his native country as well abroad and the educational institution gets national and international popularity.
The first priority is to select a land for Educational institution. The land should be square or rectangular and four corners should be of 90°. If the North East side land is extended it is auspicious for an educational institution or if any natural water resource like -pond, river, fountain is present in the North East direction it gets quick popularity. The tall trees, plants, dense population in South West directions, and a maximum open place in North East direction, help in the progress of Educational institution.
A boundary wall around the institution is a must as it generates positive energy and magnetic waves. The land which generates positive energy and electro magnetic waves is highly auspicious and brings peace, happiness and prosperity in the lives of the workers. A solid and high wall should be kept in South West direction. The slope of the land should be in North and East side. This type of construction increases the popularity and prosperity of Educational institution.
A land is auspicious if it is placed in North, East or West direction. The entrance door of an educational institution should be in North, East or North East (Ishan kona) directions, as it is considered good and brings auspicious results. It should never be kept in South West direction.
An educational institute should be constructed in such a manner that its front portion faces East side. The first rays of the Sun arrive from East direction and it is North East direction from where we get the life giving energy. The teachers perform their duties well and do the teaching work in an effective manner (proficiently) which results in commendable performance of the students.
A very large land is required for the construction of any educational institution. If the construction is being done in sections, the North and East parts should be kept open and the construction work should be started on South, West direction of the land. The construction work is done on all four sides of the land of an educational institution. Brahmasthan should be kept open. Any partition, nail and any heavy object should not be kept in Brahmasthan and Brahmasthan should always be kept neat, clean and empty.
The class rooms should be in East, North East or West direction of the building.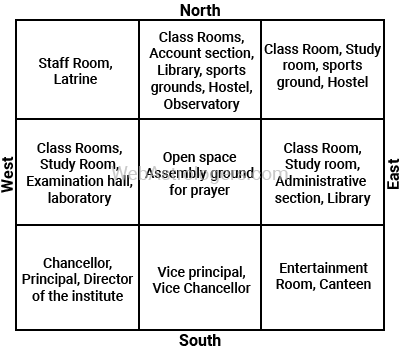 The North direction is ruled by Mercury (Lord of mental vitality) intelligence, Ishan kona is ruled by Jupiter (Lord of knowledge) East direction is under the domain of Atmakarak Sun, and West side is ruled by the Goddess of learning (Ma Saraswati). So the learning of students is enhanced if the classrooms are made in these directions. Black board should be placed in North or East direction of the class. The students are endowed with outstand intellect and knowledge if they face North or East direction, While studying. The classrooms should be rectangular or square in shape. The doors and windows should be kept in North and East directions. The entry in the classroom should be made from East or North East sides. There should be proper arrangement of light in the classroom.
The office of the principal, chancellor, or the main head should be made in South-West direction. The office of vice principal, vice chancellor, are best if it is in South side. Administrative office from where all the administrative activities are executed should be made in East direction. Account section should be in North side. North direction brings auspicious results in financial sector which helps in maintaining the prosperity of institution. The main treasurer or accountant should sit facing North direction. If treasurer sits facing East direction, cash counter should be kept in his right side, if the treasurer sits facing North direction, cash counter should be in his left side. Examination halls should be made in West direction. Library if made in North or East side of the institute gives good result laboratory should be in the west side. The staff room should be made in Vayavyasthan. Entertainment room and the canteen should be in Agneyasthan. Playground if kept in North or Ishan directions is auspicious. Hostels should be made in North or Ishan direction. If there is a need Hostel can be made in South or East direction also. Observatory should be in North side and the place for assembly prayer should be in Brahmsthan.
Ishan kona of educational institute should be kept free from dirt and garbage. It should always be neat and clean. It is because the almighty and the Guru of planets (significator of spiritual awakening) reside here. So to energise this kona, an idol or a statue of favourite God should be kept in this direction and Deepak, dhoop or incence should be lit everyday. An aquarium or a small fountain should be put in North - East direction. If a fountain kept in the left side of the main door and this fountain is visible from inside of Educational institution, it is a good arrangement as it enhances the popularity of the institution and helps to create cheerful environment in the premises.
Underground water tank, boring, tube well should be made in Ishan kona. This type of arrangement enhances the prosperity and happiness of the institution. Latrines and bathrooms should be made in Vayavyasthan. The place for Transformer, generator, switch board etc appliances is good in Agneyasthan of the institute.