Vastu for Cinema Hall
Cinema hall, theatre or auditorium are very important public places, where people from all age groups sit together and enjoy the entertainment. If this place is constructed according to the principles of vastu, it is very auspicious. Cinema halls, theatre or auditorium if made in South East direction gives beneficial results because planet Venus rules this direction who is the significator of arts, entertainment, cinema, drama, music, dance and acting etc.
Square or rectangular land should be selected for cinema hall or auditorium. Triangular, uneven or square land should not be selected. In rectangular land, length should be in north-south and width should be in East West. Brahmmeed or Vaishya, means white or green soil is good for cinema hall. The slope of the land should be either in North or East. An open space is good around the land but it is always better if the maximum open area is in North East rather than in South West. The entrance door of the cinema hall in east or North direction is very auspicious. But according to vastu the entrance door in all four directions are auspicious.
In Astrology, Venus planet rules music, dance, singing, drama, cinema etc. Venus is the lord of South East direction. So it is always auspicious if cinema hall, theatre or auditoriums are constructed either in East- South or side of the city, or South East side of the land.
West or South directions should be used for screen and stage (platform) of auditorium, which are used in cinema hall. The seating place for the audience should be in North or East directions. But now a days the experts believe that best place for screens in cinema hall is either North or East, and for audience it is south and West directions. Projector should be placed in South or west direction.
Ishan kona of cinema hall should be kept open. The construction of a fountain, or a pond in such place helps in the prosperity of cinema hall. For a healthy environment the arrangement of small sections of parks and water bodies is beneficial for prosperity in business. One gets the blessings of Goddess Laxmi and financial condition gets enhanced.
South and West directions should be kept elevated and heavy which helps in the progress and stability of the Cinema hall. The principles of Vastu should be followed in a proper manner in the interiors of cinema hall. For the office of the owner or executive manager should be placed in South West direction. The main office should be bigger than other rooms. The most appropriate place for the seating of main official in cinema hall is South West direction. As working in this direction enhances the owner's power of taking right decision capability. The executive head or the owner should face North or East direction as it enhances the working capabilities.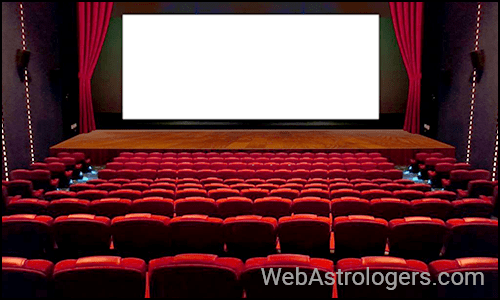 Canteen in Cinema hall should be either in South East or South direction. Planet Venus is the lord of Agnaya kona and the significator of Goddess Annapurna. So this place is best for the canteen. For any kind of electrical appliances or items like transformer, generator, south-east direction is best.
The arrangement of toilets and latrines can be made either in South East Nairatya or South directions. Latrines should never be constructed in Ishan kona or in the center as this arrangement creates hurdles in prosperity. The seat in latrine should be kept in West, Vayavya or South sides. If possible, North-South axis should be used.
North or East directions are best for the parking of vehicles. An open space is good around the cinema hall. Cinema hall premises should be kept neat, clean and attractive. A beautiful and attractive place attracts the audience to come again and again.