Though the Yin and Yang Theory define to us the foundation work of Feng Shui methods, the basic rules and remedies of this science are also really inclined by the Philosophy of the Five Elements. The Chinese consider the relations of these five elements - earth, wood, fire, metal and water - may be joint in dissimilar measures to create all the variations that are found in the energy power of nature.
An important part of Feng Shui exercise is based on understanding how these elements co-operate in the physical atmosphere to create bad or good luck.
The five elements have many implications as follows -
| | |
| --- | --- |
| ● Fire represent to red colour, an opportune colour. It signifies summer and is direction is south. | |
| ● Water represent to black or dark blue, a solemn colour. It signifies winter and is direction is north. | |
| ● Wood represent to green, a flourishing colour. It signifies spring and is direction is east. | |
| ● Metal represent to white or golden, and strong colour. It signifies fall and is direction is west. | |
| ● Earth represent to yellow or brown, a colour of accomplishment. It signifies the direction of centre. | |
The Feng Shui Cycles
The five elements are, in detail, elaborate in two types of repeated relationships. The creative and the damaging cycles. In the creative cycle, fire produces earth, which produces metal, which produces water, which produces wood, which in turn produces fire. In the damaging cycle, wood destroys earth, earth destroys water, water douses fire, and fire melts metal, which in turn will chop down wood. Feng Shui practice needs that these separate representational elements is to be combined into the placing in homes and offices using the Chinese Fengshui methods of classifying everybody's date and hour of birth as per the elements.
Direction
Bagua Area
Element
Enhance Lucky
Direction Energies
Mitigate Unlucky
Direction Energies
NE
Knowledge
Earth
Earth & Fire
Wood
N
Career
Water
Water & Metal
Earth
NW
Helpful People
Metal
Metal & Earth
Fire
W
Children
Metal
Metal & Earth
Fire
SW
Marriage
Earth
Earth & Fire
Wood
S
Fame
Fire
Wood & Fire
Water
E
Family
Wood
Water & Wood
Metal
SE
Wealth
Wood
Water & Wood
Metal
Heart / Center
Tai Chi
Earth
Fire & Earth
Wood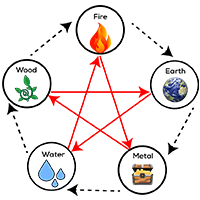 Cycle of Creation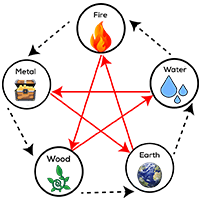 Cycle of Destruction
It may not be profitable for someone born in a fire ruled year to place of much water in the home, so water pots, fountains, aquariums, and dark based coloured objects (black or blue - the water colours) always avoided, due to water abolishes fire. On the other side, plants and green items signifying wood are considered auspicious, since wood produce fire. Moreover, it would be helpful if one to sleep in that room which located on the south side of the flats or premises. But so many plants in the house should not be much auspicious if you were born in an earth ruled year, due to wood finishes earth. As an alternative, interior of the room with red objects and bright lights should be favourable, hence fire produces earth. Subsequently earth is the central element of the five elements theory, earth people should sleep at or near the main centre in the house.
These few patterns determine the various arrangements that would work or would not work with the Feng Shui fundamental rules. In the example of a family, where every member is born under a dissimilar element, it is the element of the bread-winner or the head of the house that is believed the most important significant. It is her or his element that would to be considered when analysing for suitable positions and furnishings. Other rooms in the house can be planned to benefit their principal occupier.
Consequently on the basis of the five elements theory, basically all incidents have been characterised. The whole thing, from a canal to sounds to our bodies organs, it may be defined in terms of the five elements theory. Just how the things are categorised be determined by completely on their individual qualities. Such as, earth is represented with growth and nourishment, so the irritation, which monitors the blood - digesting relics and creating antibodies whenever it needs - is characterised as an earth element!
To accomplish, it essential to be said that you would not use any of these elements casually. Ideally, a proper Feng Shui investigation report should be done by a qualified fengshui practitioner. Cast-off incorrectly, the elements can cause harm to relationships, health, or finance and prosperity. When we used it in proper rule and manner, they can build up strong relationships, health, and money. They permit the right amount of Chi - the auspicious or the good energy forces and clasp back Sha - the ugly or bad encouragements.
Acharya V Shastri Invited you to the Wonderful World of Fengshui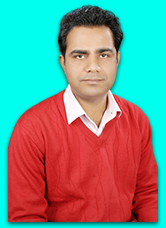 Acharya V Shastri
(world Famous Celebrity Astrologer)
---
204, 2nd Floor, Plot No.1, Pocket 4 Market, Sec-11, Dwarka, New Delhi-11075
+91-9205722942