Shatabhisha Nakshatra Baby Names
---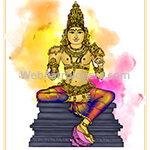 Shatabhisha Nakshatra
Location
6.40 Aqua to 20.00 Aqua
Ruler
Rahu
Symbol
1000 Stars
Deity
Varuna
Varna
Butcher
Alphabets
Go, Sa, Saa, Si, Su, Soo, See, Gau
Character and general events:
He is a tough core follower of "Satyameva Jayate". He won't hesitate to sacrifice his own life for upholding the reality. As he's born with bound principles, he needs to very often confront with others as he cannot deviate from his principles in life. Unselfish service is his expression. He insists on following the spiritual traditions. He's additionally of the adamant kind. Once he takes a call it's demanding for others to vary it. Whereas he's terribly intelligent and economical in most of the walks of life, he's terribly soft hearted. He's a combination of fine and unhealthy.
When he's aggravated, he can rise sort of a bulldog, however that anger is before long subsided. As he doesn't believe elegance and show, he's back to exhibit his abilities. However, his abilities area unit before long unearthed once he starts conversing in a remarkable and enticing manner. His dialects area unit extremely instructive.
Education and sources of earning/profession:
The native of the Shatabhisha Nakshatra can face a torrid time until the age of thirty four, when that he can build steady progress in his profession or business. This native is appropriate for the fields of star divination, psychology, reiki and alternative healing arts. His literary acumen can acquire the limelight whereas he's still young.
Ashwini Nakshatras Baby Names Start with the Letter :