Rohini Nakshatra Baby Names
---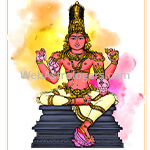 Rohini Nakshatra
Location
10.00 Taurus to 23.20 Taurus
Ruler
Moon
Symbol
Chariot
Deity
Brahma
Varna
Labourer(Sewak)
Alphabets
O, Va, Vaa, Vi, Vee, Vu, Voo, Wa, Wu
Character and general events:
The prime creator of all things living, from the meanest insect to Man, the sweetness of the weird, the paragon of animals. Rohini-cluster so encompasses everything that comes among creation—beasts, birds, animals etc. He is ill-natured. Once he gets angry it will not subside simply and no-one will modify his call. He becomes extraordinarily obstinate if somebody tries to override his opinions or thwart his plans. He remains oblivious to any recommendation or concepts counter to his own.
He has special talent to search out fault in others. He cannot work with a hard and fast aim in his life. He's dominated by his heart instead of his brain. Whereas he's able to sacrifice everything for his pet ones, he won't hesitate to cause extreme bother to the scorned. He feels affected upon his own work. Acceptance of the reality and discard of the false is his and purpose.
His life is filled with ups and downs as he doesn't attempt to preplan his objectives. He will attain nice success in life provided a touch restraint is unbroken on the liberty in his mind. There's no tomorrow for him. He spends everything for today's comfort.
Education and sources of earning/profession:
The native of the Rohini Nakshatra, it's been ascertained, faces tons to trials and tribulations between the ages of eighteen and thirty six years. These issues are on the economic, social and health grounds. These natives relish their best part between 38-50 and 65-75 years. He ought to be terribly careful of business partners, or he could also be cheated, and continually remember to not confide all his plans to anyone, unless he's totally positive that the person is totally warrant his trust.
Ashwini Nakshatras Baby Names Start with the Letter :