Makha Nakshatra Baby Names
---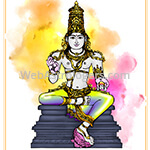 Makha Nakshatra
Location
0.00 Leo to 13.20 Leo
Ruler
Ketu
Symbol
Throne
Deity
Piter
Varna
Labourer
Alphabets
Ma, Maa, Mi, Mee, Mu, Me
Character and general events:
He is terribly enterprising. He can respect elders. He are going to be God fearing and enjoys his life. He's soft spoken Associate in nursing and knowledgeable in numerous sciences. He likes to steer a quiet life. The native are going to be receiving honor and recognition from learned folks. He contains a sensible data concerning numerous arts. He can devote his valuable time for the enlargement of his culture and is actively concerned in numerous cultural activities. He deals with others during a well thought out manner as he does not wish to harm the emotions of others. Just in case any of his action is to blame for pain the emotions of others, he at once tries to rectify such Associate in nurture action. He additionally doesn't like those who produce hindrance or cause hassle to others. For this reason, there could also be many hidden enemies within the native's life.
He's short-tempered. He cannot tolerate any action or activity that isn't inside the orbit of truth. This mental feeling leads him into a state of failures. Stinginess may be a remote question for him. He will many things for the community or society not with the intention of obtaining something reciprocally, except for mental satisfaction. This is often the explanation why the native is in a position to catch the eyes of the general public.
Education and sources of earning/profession:
The native of the Hindu calendar month Nakshatra are going to be from an awfully made background, although' by himself he won't be able to do abundant either as knowledgeable or a man of affairs. He terribly hard-working, and no matter progress he makes is thanks to this perspective of sincerity. It's terribly probably that he can keep dynamic his profession or business. However once he makes up his mind to try and do it, nothing will modification his call.
Ashwini Nakshatras Baby Names Start with the Letter :