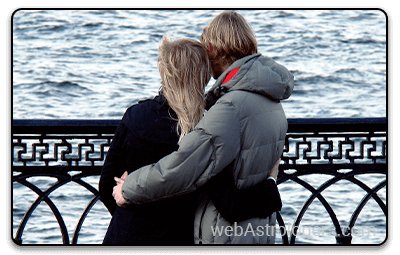 In the compatibility between Sagittarius female and Cancer male their relation might be not easy to continue, for the Sagittarius lady is easygoing and likes to wander, while the Cancer male is emotional and prefers to stay at home. It will need lots of comprehension on his side to agree to his mate's habits. Each will need to find the middle ground for this correlation to go on.
The Sagittarius lady is surely a leader. The Sagittarius lady hardly ever stops for long time, before she is off searching for the next journey. The Cancer male, on the other side, is very passive in his quests and likes to make an easy home life.
The Sagittarius lady and Cancer male have totally opposite aims in life, and even dissimilar methods of moving towards them. The Cancer male is emotional, and he utilizes instinct to take decisions. She just chases forward without considering the results.
If the Sagittarius lady and Cancer male pair may find out to work with their mate and be an open-minded, they may make things work. The Sagittarius lady may persuade her Cancer male out of his shell and take him places he not imagined he might go ever. He, also, may teach her the importance of hard work and loyalty.
The Cancer man will make a firm home life for her and their family, and she may like the tranquility that this sort of life needs to offer. But he needs to give her the independence to go on her own sometimes otherwise she will simply become fed up with the tranquility.
It's hard for both to meet, and the single thing that will take the Sagittarius lady and Cancer male on the same page is his strength of mind. If there is an appeal between them, he will do anything it takes to get their correlation to further level. She admires his passion, and is keen to make better their sexual and love relationship.
But the Cancer male feels their love-making and sex on a very sentimental plane, and she does not comprehend this in any way. While he is immersed in a very divine union, she is just seeking a better time.
Cancer men will need to take it easy if they want to be in agreement. And if she is not completely loyal to him he will retreat from more evenings along with her. He requires re-assurance that she is in it for always, and that might be not easy to get from her.
And she will need to have tolerance for his different mood changes otherwise she will simply take off whenever they have an argument. That implies nothing will ever get solved between the Sagittarius Lady and Cancer male compatibility, as he just move backs into his shell when there is problem.
These two will need to put in lots of sacrifices to continue a pleasant correlation. But if they are dedicated to one another, they are ready to make some efforts.