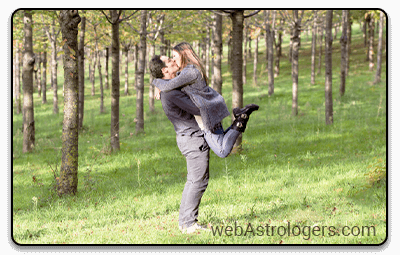 Leo and Aquarius make great combination. Even though they have a lot of differences in their personality, the basic factor of 'opposite attract' works well with them. Both of them have a positive attitude towards life and want to get the best of it. The Aquarius is more of a collective person, always thinking of the good of the group whereas they Leo will not hesitate to put their individual needs before the rest of others. They have different ways and approaches to life, but will come together to create a sense of balance so that their relationship becomes better and more matured.
Leos are very generous people, good at heart who will always be willing to help someone in need. They are helpful, friendly and optimistic people who is a great company to hang around with. They are determined and committed and will never lose their focus in life. They know exactly what they want in life and will work hard to achieve it. They want their life to be luxurious and comfortable with all the basic facilities and luxuries easily available at their disposal. They are very protective of their loved ones and can go to any extent to protect them. They always want to be in the lead and exercise control, be it professionally or personally. They have excellent organizational skills and know what they need to do exactly. They do not need supervision or control. If you want them to be at their best, then the easiest way to do so will be by appreciating or admiring them.
Aquarius are very friendly and jovial people who will always be seen spreading happiness and smiles around. They want to live a tension free and happy life by making everyone else around them happy as well. They are very idealistic, always living in the world of imagination and perfection. They are very independent and freedom loving individual who does not like to be controlled and restrained. They are free spirited individual who want to wander around freely tasting all the beauty of life. They are very creative and intelligent and are quite different from the rest. They easily adapt to new situations and can make friends in no time.
The similarities and differences of Leo and Aquarius are complementary as well as advantageous. When on one hand the Leo dictates and delegates, the Aquarius dreams, plans and figures out what has to be done. They both have an optimistic attitude towards life and look at everything in a positive way. Both of them are generous and can never see someone in need going without help. The Leo brings some order and discipline in the life of Aquarius while the Aquarius teaches the Leo to be more relaxed and enjoy the beauty of life. When the Aquarius's imagination is combined with the determination of Leo, the combination is fatal. When the Leo becomes too domineering, the Aquarius makes accommodation to ensure that the conflict does not get escalated. They can make great friends, siblings, relatives and colleagues.