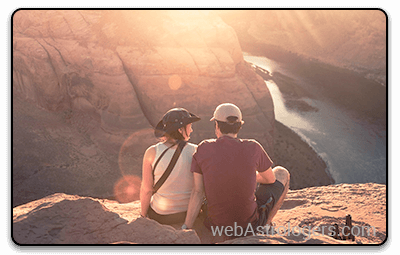 In the compatibility between Aquarius female and Cancer male, it might be not easy for both to connect instantly. She is an outgoing person while he is a shy and reticent person. But he is fascinated by her extraordinary intelligence and their talks are not uninteresting ever.
If both find one another it's often at a close meeting. These two are social and friendly with everyone. The Aquarius lady will probably take the first step and he will be happy she did, for the minute they begin conversing the Cancer male is enthralled by her talks and thoughts.
The Aquarius woman likes the keen way he answers to her questions, and she knows the great extents he goes to when trying to continue an energetic conversation. He looks keen to gratify and she reacts by working alike as hard.
She can notice how enthusiastic the Cancer man is and what a good giver he would be. She appreciates this for she doesn't mind to maintain a family, and he will simply manage it. And if there is much of an appeal, they will take things to the bed.
The Aquarius female and Cancer male pair will need to trust in their contact abilities to go through in their distinction in physical relationship. He can take his sentimental high and low feelings in his imaginations where she is, and they can mix their differing methods to make a pleasing perspective in lovemaking.
The Cancer male feels their love-making on a sentimental plane and the Aquarius female feels it on an intellectual one. He puts himself totally into any circumstance, and their sexual pairing is no exception. But she is not that engaged in an emotional approach. Due to this, she may work as aloof or disconnected, and he will begin to concern he isn't pleasing his mate.
He wants continuous assurance that all is well between them, and she doesn't see the want for such assurance. But his tried and right techniques in lovemaking may turn off her sometimes, and her want for enthusiasm may be making him feel slightly frightened or worried.
The Aquarius female and Cancer male pair will need to keep on this sort of give and take in other areas of life also. While Cancer men are willing to care for their household chores, they can be inclined to emotional expressions. Aquarius women would relatively apply sense to work things, and he might not react to her serious thoughts the approach she desires him to.
If this leads to a disagreement between them, the Cancer male will move back into his shell and it will need lots of try to persuade him out of it. She will need to learn tolerance with his reticent character, for she is very open and self-assured than he is. At the same time, her want to be out and do anything can be slightly much for the Cancer male, and he will need to trust her to return from her expeditions.
The Aquarius female and Cancer male match will need to make a base of sincerity and admiration if they want to continue a steady pairing.